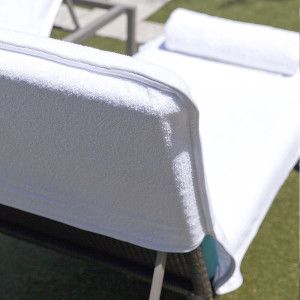 You might have finished purchasing your high quality Boca Terry bathrobes and spa products, and are quite pleased with getting them in time to reap the benefits of comfort. Although you're content as can be with these luxe products, you might have forgotten about getting the ever-cozy lounge chair covers.
Enhance Your Assessments
Event though it's important to regularly check your inventory and assess how well you're meeting the needs of your customers, evaluations ultimately serve as the final word.
Once customers feast their eyes on these snug covers, there's no turning back to the days of having to disrupt some relaxation by picking up a fallen towel. Your guests' comfort will equal increased ratings for your establishment.
No Space For Blunders
With a highly competitive hospitality industry comes the range of responsibilities necessary for keeping your online ratings high. Even the slightest mishap can cause a struggle in climbing up the ladder to success, and guests are generally not shy to voice or write their displeasure with any amenities. By simply adding a plush lounge chair, this can keep you away from the zone of bad reviews.
Not All About Looks
It's no secret that good looks can only last for so long. Boca Terry's intricately woven lounge chair covers not only flawlessly fit on pool and beach lounge chairs, they also provide a universal fit and feel amazing to the touch. You can easily remove them to launder, too.
Detail Oriented
Boca Terry's lounge chair covers come in 100% combed cotton terry and are available in both ecru and white shades. They have strikingly finished cotton tape edges along the hems.
With a strong attention to detail, the intricately structured loops are strategically designed to absorb the utmost amount of moisture. Stitches are tightly sewn to prolong the life of the chair covers. They can blend in both classic and contemporary environments.
A Lavish Composition
Our covers are not only made to effectively absorb moisture; they also absorb creams and oils, which is ideal for beach/poolside locations. Aside from making your chairs extra comfortable, these covers will keep your furniture clean, while giving your guests the peace of mind of lying down on clean fabric.
Quality at Its Finest
Our team's training in recognizing luxury and quality mirrors Boca Terry's unparalleled dedication to quality. The top-notch refinement of our factories' machines is among the many factors that have helped build our reputation as one of the best product distributors in the hospitality industry.
Selecting the Best Fabrics
We are extremely diligent when it comes to choosing the finest materials for our products. Our different lines are created with durable fabrics that can withstand the demanding laundering practices that are necessary to keep with hotel sanitation standards.
Bang for Your Buck
The durability of our terry cloth lounge chair covers also helps you save money for the long run. You won't have to worry about spending more on re-orders and instead, you can use the saved money to buy other Boca Terry products that will assist in enhancing your brand awareness. If you're a boutique business that allows guests to take your merchandise home with them, this is especially useful.
Designing Unique Covers
Before placing your lounge chair covers order, make sure to talk to our design experts and learn about customizing your covers with your logo or personalized design. Just like you focus on personalizing your bathrobes and towels, you should do the same for your covers.
Balancing Your Environment
When everything in your establishment holds a sense of conformity, it should resonate without any exceptions. In other words, keeping a balance between form and function is necessary. By making sure your materials match, your guests will feel better knowing you've paid close attention to maintaining a uniform setting.
Comfort Amenities Galore
Comfort should always be at the forefront of your brand's mission. By paying attention to the small things, you will have the ability to include all of the necessary amenities that come to mind.
This comes with building on details like having the right towels and robes that offer the desired level of comfort, as well as having lounge chairs that exude smoothness on every corner.You wouldn't want your energy to be wrongfully spent.
Most hotels and spas spend so much on modish architecture and design elements that sometimes, other modes ofcomfort are left out. The smallest details that focus on coziness are what keep clientele coming back for more.
Stay up to Par with Your Brand
Boca Terry's mission is to offer top-quality products at affordable prices. Whether you own a large resort or a smaller bed and breakfast, we make our luxury products readily available for everyone. With our competitive prices, you can improve your brand and show guests how much you care.
Making an Everlasting Statement
At Boca Terry, our many years of experience in manufacturing and production have helpedguide both loyal and prospective clients to portray the proper values for their brand. By having your logo widely present on your lounge chair covers, towels, bathrobes and slippers, you can make an unforgettable impression on your guests.
Our high-end embroidery process and experienced design experts ascertain that the designs you choose always look hand sewn and stitched. Guests will always feel surrounded by distinct products.
Defining Luxury
As our clients are located on a global scale, maintaining our principles on that level is extremely important to us. Boca Terry is proud of being a part of a trend where our products stand out in their quality thanks to their luxurious composition.
Over time, we've learned how to perfect our manufacturing techniques and are always excited to reinvent our care processes. This helps to ensure that our clients are getting the quality they deserve.
To learn more about how you can place an order for a Boca Terry lounge chair cover or for any one of our other products, please contact us today, and we'll be more than happy to help you find the right fit.
Share this item with friends