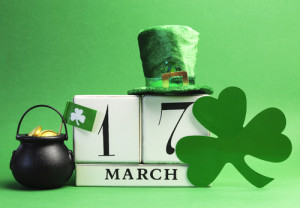 It's that time of the year, when March 17 parades let loose and the color green takes over the wardrobe of many in a quest to stay away from getting pinched. You can keep leprechauns and fairy creatures far from your party with these festive ideas.
Themed Décor 
Spread the word about your anticipated party with festive invitations. Whether you decide to go with paper cards or the e-card route, keep the design entertaining and personalized. If you're having a costume party, make sure to include the dress code.
Balloons and bumpers make all the difference when it comes to setting the festive atmosphere. Gather a bunch of green and gold/silver balloons and colorful confetti to decorate. Use hanging paper/foil clovers for a 3D decoration of good fortune. 
Party Favors 
Flair of green – If one of your guests forgets to wear green, you can save them with a green beaded necklace. Have several necklaces on hand so no one is left out. You can also opt for green St. Patrick's Day-inspired wristbands, instead, and get creative with glow-in-the-dark options.
Costume attire – Enhance everyone's costume with green derby hats and pinhole glasses that fit the theme. For the ladies, a green glitter tiara would help make for the best pictures. Go the extra mile by having a photo booth with a St. Patrick's Day backdrop and create a unique #hashtag so everyone can join in on the fun.
Warm parting gifts – Let your guests catch the pot of gold at the end of the rainbow with candy kettles filled with chocolate gold coins. Or create shamrock-covered goody bags stuffed with shimmering gold candy for your guests to enjoy and remember your event all month long.

Games & Thirst-Quenching Beverages 
What's a party without games everyone can enjoy? Play St. Patrick's Day Pictionary, trivia, and hold beverage contests. Don't forget about having Irish prizes ready for the game winners.
Set up a bar with different drinks from golden beer to Irish whiskey and coffee milkshakes, alongside an amusing dessert and candy buffet with green fortune cookies and other creative recipes… and you're all set for a very happy St. Patrick's Day!
Share this item with friends