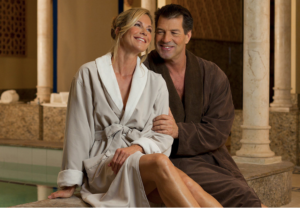 Cooler weather calls for even cozier bathrobes!
Ready or not, fall will be here before you know it. And that means it'll be time to light the fire pit for those crisp and cool autumn nights. The perfect complement to this atmosphere? A long and luxurious bathrobe manufactured with quality in mind. Here are a few of the styles we've got our eyes on for the coming season:
1. Microfiber bathrobe
Bring a touch of class to your campfire with the luxurious, plush microfiber bathrobe. It's available in a range of colors, from classic white and ecru to bold black, brown, and wedgewood. This robe is covered in a soft, fuzzy liner and at 52", it's sure to keep you comfortable and warm as the cool air moves in this fall.
2. Knit waffle bathrobe
Why cuddle up near the fire with a giant blanket when you can simply wear one instead? Thanks to the knit waffle bathrobe, now you practically can! This bathrobe was designed to mimic both the beauty and comfort of a quilt, and features a small stitch diamond pattern. It's filled with modal fibers, which are characterized by their soft and rich feel, making your bathrobe cozier than ever. And at 52" long, it's just the right length to keep you warm during colder weather.
3. Organic classic shawl collar
The organic classic shawl collar is the perfect option for the environmentally-conscious robe-wearer. As an added bonus, our organic cotton is free from all chemicals, dyes, and pesticides, making it the right choice for anyone battling skin irritation or sensitivities resulting from conventional cotton farming methods. While we always use top-quality combed cotton, our organic selections bring it a step further for anyone interested in reaping the added benefits. Made from 100% certified organic cotton velour or terry fabric, this 52″ bathrobe is a great choice for your autumn nights.
Ring in the autumn weather in cozy Boca Terry
Fully unwind around the fire in a regal bathrobe — and don't forget the slippers! Boca Terry offers top quality and affordable solutions for both wholesale and retail customers, so there's an option for you or your guests no matter where your fire pit sits. Go ahead and treat yourself to a few of these unforgettable treats. And contact us with any questions about our products or pricing or browse retail selections here.
Share this item with friends