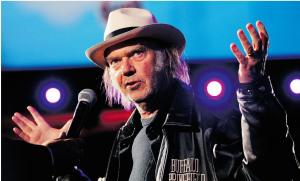 You've heard of organic apples, broccoli, and milk, but have you heard of organic cotton? Rock star, Neil Young, recently took to his website to inform his friends, family, fans, and followers about his stance regarding the usage of conventional cotton versus organically grown cotton.
Why Go Green?
Well, as it turns out, conventional cotton has fewer regulations regarding fertilizers, chemicals, and insecticides; these contaminants can lead to skin irritation in those with sensitivities.
Young's Stance
Young was not shy about his stance on the use of conventional cotton versus organic, as he shouldn't be. On his website (email sign-up required for access), he stated, "on my last tour of Europe, I started to give our music loving audience free organic cotton t-shirts as a way to show that we appreciate you. Your shirts' cotton is grown in the most earth friendly way. Feel it. Isn't it the best cotton you have ever felt?" Neil offered these shirts at no cost, but he warned that there was a catch—he hopes that, as his fans wear the Protect / Earth t-shirt, they will promise to protect Earth and to take a stand for Earth, by protecting it.
His personal conviction led him to address his thousands of fans, asking them to treat the earth with respect—especially while wearing the free, organic cotton shirt he gifted to his following.
He continued by informing that he is in the process of removing the sales of non-organic t-shirts from his concerts and online stores.
Now that you have the dirty details about conventional and organic cotton, you may be wondering where to purchase organic cotton robes.
Boca Terry's Options
Boca Terry has developed options for those of you who share similar convictions to those of Neil Young. Want to wear a warm cotton robe this fall and winter, but worried about wearing non-organic cotton? Boca Terry uses top-of-the-line materials for all of out products, including our Organic Cotton Bathrobes. With three styles to choose from, there is a choice for you—and everyone in the family! Clear your conscious with Boca Terry!
Share this item with friends