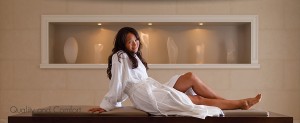 If you were wondering where in the world you might find the best bathrobe, than look no further. Stone hurst place, an Atlanta born bed and breakfast, built in 1896 and renovated beyond its original grandeur, has been rated as having the "Best Robes" out of 8,500 Bed and Breakfasts around the world. The award comes directly from travelers across the globe.
Stonehurst Place is a renowned bed and breakfast that features exceptional service and amenities with an outspoken reliance on personal customer attention and strong product lines to distinguish them from their competitors. The bathrobes worthy of garnering this noteriaty, and unique to Stonehurst is Boca Terry bathrobes, a leading distributor of luxury bathrobes and spa accessories to hotel and spa industries.
Edward Cohen, owner of Boca Terry Bathrobes, says, "We are proud to be honored with this award in conjunction with a property like Stonehurst Place."
Pamela Lanier's Bed and Breakfasts, Inns and Guesthouses International has been assisting inn goers with a comprehensive variety of boutique lodgings since 1982, announcing a "Best of" winners for 28 years in a row, the oldest and most prestigious B&B vote program in the world.
"Warm, welcoming and full of character and charm, Barb Shadomy & Caroline Holder offer exceptional hospitality and effort to go that extra mile" said Pamela Lanier of the well regarded LanierBB.com. "Earning themselves the designation of Best Robes for 2011′ with Lanier readers, this B&B truly stands out above the rest."
Stonehurst Place is Atlanta's first EarthCraft Certified bed and breakfast featuring three suites and two deluxe rooms with gourmet breakfast served to guests each morning. On display at the inn are original art works by Andy Warhol, Dale Chihuly and Jim Dine, as well as vintage pieces from Hermes and an 1800's antique Chinese robe, all from Shadomy's private collection. For more information on the special features and offerings for guests at Stonehurst Place please log on to www.StonehurstPlace.com.
For information on Boca Terry product lines and pricing, visit www.BocaTerry.com. Access a complete list of Guests' Greatest Picks Award winners at www.LanierBB.com.
Share this item with friends