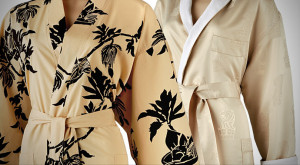 Bathrobes make the definitive statement in putting comfort on the frontline of any hospitality establishment. They can be thrown on in a spa at your resort or guests can simply wear them to relax in their rooms. Those staying at your resort might even want to take the bathrobes with them when they visit the pool or beach.
Wherever your hotel guests choose to wear their ultra comfy bathrobes, their pampering experience can be amplified with customized bathrobes. These robes create a sense of enhanced luxury thanks to their original appeal that's solely unique to your own resort.
Engaging Customers 
Customization is currently a rising trend in an array of retail sectors and for good reason. Consumers from all over the globe have shown their affinity for personalized items and often set a higher value for products that feature such enhancements.
Nowadays, the developments in technology have made it relatively easy to spread this sense of luxury in various industries. When a hotel guest throws on a customized bathrobe, they'll instantly feel like they're wearing an extra special garment and they'll correlate it with a more intense sense of lavishness. Who wouldn't enjoy that during their stay?
This seemingly minor addition to a bathrobe can actually increase your brand loyalty and ultimately help spread the word about your hotel brand. It's a simple way to distinguish your brand from those of other hotels of various calibers. So, regardless of the size of your resort or its facilities, having custom quality bathrobes on hand can change your guests' experiences.
A One-of-a-Kind Design
The best part about the multifaceted nature of customized bathrobes is that you can choose to have an emblem, logo or the name of your resort displayed in an attractive manner.  At Boca Terry, you can even select a customized design for your resort bathrobes, depending on the image you'd like to portray.
Since you have several choices to choose from, we can help guide you in selecting the customization that fits your brand image. Our professional design team will work with you to bring your ideas to life and we'll send you a sample to make sure the result is up to par with your expectations.
Our quality manufacturing processes ensure beautifully stitched and highly durable customizations. Customized bathrobes are also a great idea to have for special events at your resort as they can improve guests' visual experiences.
Comfort Behind the Scheme
While the charm of a customized bathrobe is in large part due to the image or design that sets it apart from the rest, its overall composition resonates most with hotel guests. Adding a personal touch to a snug bathrobe will allow your guests to associate the comfort they feel with your brand.
At Boca Terry, we only use the highest quality materials in the industry to manufacture our bathrobes in our overseas factories. Each bathrobe that leaves the doors of our factories must pass our quality control processes before being delivered to our customers.
With over two decades of experience in manufacturing bathrobes, we've established long-standing relationships with fabric suppliers and merchants in the industry. This has in turn allowed us to determine and choose the best materials, while eliminating the need for any middlemen. Our customers can therefore enjoy customized bathrobes at affordable prices.
All Boca Terry bathrobes are customizable and feature the following facets of coziness:
Practicality – Boasting large front pockets, guests can store their personal belongings no matter where they are.
Flexibility – A one-size-fits-all fit can flatter any silhouette and plus sizes are also available.
Adjustability – The double belt loops allow for modifying the height of the bathrobe belt to suit any body type.
Durability – Since all bathrobes are made of premium quality materials, they can endure several launderings without having their structure compromised.
No matter where your resort is located, our bathrobes can accommodate various climates, too.
A Broad Spectrum of Styles
At Boca Terry, you have the chance to add originality to a range of bathrobe styles. Whether you're looking for a cotton terry or velour alternative, or a microfiber bathrobe with a shawl collar, your options are endless. They can blend into a host of resort décor themes, whether traditional, contemporary or in between.
Boca Terry also carries customizable eco-friendly options to suit environmentally friendly institutions and guests. Made of 100% certified organic cotton, you can choose from terry and velour options with our Organic Basic Kimono and Organic Classic Shawl Collar robe. You can also go for a lightweight design with minimalist lines with our Organic Lightweight Waffle bathrobe.
Keep the Memories Flowing
If you have a boutique at the your resort, you can even sell your own customized bathrobes. This will help propel your brand awareness, while guests take their memorable experiences home with them.
In addition, you can send personalized bathrobes to special clients to show your appreciation for their loyalty. Guests can remember your hotel every time they wear their bathrobe and they'll keep coming back for more stays.
Personalizing More than Bathrobes
Pair your customized bathrobes with a range of personalized towels and spa accessories from Boca Terry. Choose from closed and open toe slipper options that feature a range of fabric options to match the bathrobe of your choice, as well as non-skid soles.
Our towel collections and spa accessories can be customized to complete the look of your hotel rooms and its diverse amenities. Your guests can get the sense of luxury practically anywhere they step foot in. Our lounge chair covers can showcase bespoke designs, too.
Call Boca Terry to Optimize Your Guests' Experiences
Bathrobes that feature unique accents translate the smallest details into long-lasting declarations of luxury. For more information about our range of customizable bathrobes and products, contact Boca Terry today. One of our skilled team members will gladly guide you through our large assortment and our customization processes.
Share this item with friends