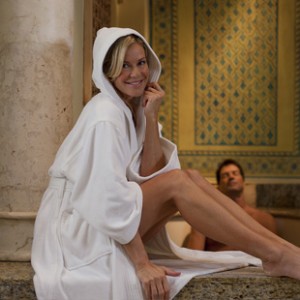 At Boca Terry, we are always looking for ways to promote ease and comfort by providing the most beautiful, chic, and comfortable bathrobes. Whether it is to lounge around the pool, absorb emollient skin products, or simply waft about without a care looking like a million dollars, our products are designed with a forward-thinking attitude and a dedication to quality.
Our Commitment to a Holistic Way of Life
One of our missions is to always stay ahead of the trends, as well as to remain within the essential boundaries of high consciousness and harmonious practices. In this regard, we have an exceptional line of organic bathrobes that express our commitment to a more holistic way of life.
Better Environmental and Health Protocols
By supporting the green ethic of eco-friendly, toxin free materials, we have found a consummately chic way to provide you with guilt-free bathrobes. By supporting completely organic practices, we are making a strong gesture towards better environmental and health protocols that are coming to the fore in the hospitality industry today.
Encouraging Natural Biological Cycles
Organic cotton is grown from plants that have not been genetically modified. Additionally, these plants have been nourished without the use of agricultural chemicals, such as fertilizers, insecticides, and pesticides, which means that they have been allowed to flourish in a manner that encourages natural biological cycles that support the environment and the health of cotton workers.
The Facts
Almost one quarter of all agrochemicals used in the world are used for cotton crops, which creates a very strong impact on air and surface water, placing a negative impact on biodiversity with toxic pollution. At Boca Terry, we realize that many cotton products listed as organic are not really so, as they have come in contact through weather conditions such as rain and wind, with cotton plants that have been treated with harsh chemicals.
Contributing to Better Health
We make sure our cotton is sourced from areas that are strictly off limits to toxic pollution, providing you with the guarantee that our fabrics are what we say they are. In this way, you can be sure that your organic bathrobe has made a contribution to the better health of workers exposed to cotton plants, as well as the surety that your skin will not be exposed to any toxic materials. Because our skin soaks up to 60% of any substance we come in contact with, this is an important point when it comes to promoting the utmost in health.
Fulfilling the Requirements
In the United States, in order to say your product is organic, you must fulfill various requirements as set forth by National Organic Program and the United States Department of Agriculture. As a reputable distributor of high quality organic bathrobes, Boca Terry fulfills these strictures.
A Wiser Use of Land
With natural processes that provide long term prevention of pests through conscious and alternative planting and preservation methods, organic cotton growers help to create soil with a high organic content and a much thicker topsoil depth than soil that has been treated with toxins. With thicker topsoil, there is less erosion, which is another reason why buying organic cotton robes helps to create a wiser use of land while reducing our footprint on the planet.
The Sensation of Luxury
The characteristics of a Boca Terry organic bathrobe are immediately palpable. The moment you drape one around your body, you will feel the soft fibers embracing your skin with a superior feel. Because there is nothing synthetic about our robes, you will feel that there are no false notes, but rather the true silky sensation that high quality organic cotton brings. This is the sensation of luxury.
Innovations in Style
Every bathrobe we create demonstrates the utmost in craftsmanship, with each robe tested for quality when it comes to its fibers, stitching, styling, and production. Designed for durability and comfort, we are known for our innovations in style and our ability to stay on top of current trends.
Adding Prestige to Our High End Clients
Our three top organic cotton models are what have helped add prestige to our high-end clients, as providing luxury robes are proof of the essential attention to detail. When your hotel, bed and breakfast, or spa adds our Boca Terry robes to its inventory, the addition never goes without notice and comment.
Here are our three organic cotton selections that are the perfect compliments to your committeemen to an eco-friendly environment:
The Organic Basic Kimono
Featuring double belt loops that allow your clients to adjust their robe to their own waist height, generous pockets, and a convenient hanging loop in the back, this elegant kimono style makes everyone look their best. Made of terry and velour, the multi needle stitching around front pockets and cuffs adds a beautiful touch.
The Organic Classic Shawl Collar
This model has the same attributes as above, but with a sumptuous shawl collar. Guests can pull the collar up to avoid a chill in the evening, enjoying the ultimate in comfort and coziness. This is especially important for those businesses that thrive in colder climates.
The Organic Lightweight Waffle
This robe features waffle squares that are created to absorb moisture like mini cloths distributed throughout the design. Soft and sensual against the skin, this model is perfect for any situation, including spa protocols where the body absorbs healthful emollients during and after treatments.
Beauty, Style, and Value
There is no question that natural, organic fibers contribute to a holistic approach that is rapidly becoming the norm within the hospitality industry. Buying Boca Terry's organic bathrobes gives you the beauty and style you desire, along with great value for your money. Designed for both men and women, in one-size-fits-all, you can also order customized pieces in plus sizes, as well as with your logo and design artfully embroidered by our highly professional craftspeople.
Contact Us Today
For more information on our full catalogue of bathrobes, please contact us today. We can be reached through our online form or by phone at (877) 421-6001.
Share this item with friends