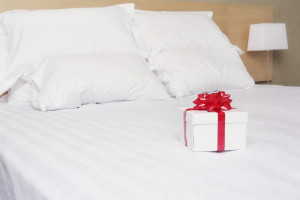 The holidays call for getting cozy and being in the mood for giving.  That makes bathrobes absolute essentials for completing each holiday season with the utmost comfort; that is, if you select suitable ones.
Luckily, with Boca Terry's wide selection of luxury bathrobes, you can pick the perfect robes for you, your hotel/spa guests, and gift recipients. We only use the best fabrics and intricate manufacturing procedures to ascertain that customers get the quality they deserve. The following Boca Terry bathrobes are some you can choose from for a fitting occasion—and location.
Island Dream
We recommend:
Microtec bathrobe
Basic Kimono bathrobe

Whether you're off to a tropical retreat with your family or you're the proud owner of an ocean-view resort, a superiorly comfortable bathrobe is in order. Boca Terry's Microtec bathrobe is an excellent option to wear while sitting out by the water and enjoying a frozen beverage.
The Microtec bathrobe comes in a Kimono and Shawl style with piping, featuring a Pineapple Check design with a raised finish. The Mini Check Shawl Collar version boasts a detailed pattern with a flat finish. With this trendy design, you won't have to sacrifice flexibility for style.
Boca Terry's Basic Kimono is also an excellent beach-getaway bathrobe alternative.  Ride some waves on your surfboard and dry off in the 100% combed cotton terry or velour variation of this extra smooth garment.
You can have the Boca Terry Basic Kimono in your hotel for guests to use before and after they go for a swim in the beach or pool. The bathrobe can be easily stored, too, courtesy of the useful hanger loop.
Cozy Night in
We recommend:
Classic Shawl Collar bathrobe

Perhaps your hotel guests would just like to lounge around their rooms or contrarily, you'd like to just stay home and watch a romantic comedy during your unwinding time. The Classic Shawl Collar bathrobe from Boca Terry is the perfect option to feel like you're wrapped in a feathery soft fantasy.
Available in 100% combed cotton velour and terry fabrics, this gorgeously classic bathrobe also features a collar and cuffs that can be rolled up to a desired length. Play your video games and get some chores out of the way with this malleable robe that also comes with double belt loops for an adjustable belt height.
A Spa of Opportunities
We recommend:
Velour Stripe bathrobe
Checkered bathrobe

The holidays call for making the time to relax. A trip to the spa certainly resonates with that on all counts. Besides the therapeutic treatments with aromatic massage oils, another piece of lushness makes for a fulfilling visit to the spa or a relaxing day at home. A bathrobe from Boca Terry designates that other piece of delight.
You and your spa guests can visit the sauna in the heavenly embrace of Boca Terry's Velour Stripe bathrobe. Featuring 100% combed cotton velour in a one-inch vertical stripe pattern, this absorbent bathrobe is available in both shawl and kimono collar versions.
To add another riveting accent to your spa line or beauty shop, get your hands on the Checkered bathrobe from Boca Terry. Your guests will rave about its soft and loose-fitting feel offering enough room to maneuver one's way to the Jacuzzi and dry off in time for a facial.
You can roll up the collar and cuffs of the shawl collar version of the Checkered bathrobe. This style also comes with the choice of navy or white piping. Generous pockets come on both the Velour Stripe and Checkered bathrobes,allowing room to smoothly store personal belongings and have them in close proximity.
Lodging Ordeal
We recommend:
Hooded bathrobe
Micro Chamois bathrobe

Whether it's winter or spring, a hooded bathrobe never fails to come into use as a necessary garment to keep warm and snug. You can stay up high in a wooden cabin on the snowy mountains, or camp out in the woods with cool spring air at night with a bathrobe that's not just easy to pack; it's also a great replacement to your hooded sweatshirt.
The extra long hood will provide you warmth no matter where you're sitting or lying down. You can lie down and gaze at the stars without getting grass on your hair, or cuddle up by the fire without experiencing a massive wind chill. With multi-needle stitching around the cuffs, front, and pockets, Boca Terry's Hooded bathrobe is one extra stylish garment.
Why not feel like royalty in Boca Terry's Micro Chamois bathrobe, too? Your guests can get the imperial treatment in this extra smooth and lightweight robe. It can undergo several laundry washes to meet the hospitality industry's high cleanliness standards, thanks to the durable nature of its fabric.
Festive Zone
We recommend:
Microterry bathrobe
Satin Stripe bathrobe

Boca Terry's large variety of quality bathrobes can fit the preferences of even the pickiest family members. If you're having guests over this holiday season, you should consider getting a bathrobe that could withstand a number of tosses in the washing machine. Enter Boca Terry's Microterry bathrobe.
Made of 100% polyester, guests will feel like they're at a five-star resort. Give them the gift of relaxation with an ultra smooth and classic bathrobe available in white and ecru variations.
The fabric is wrinkle resistant, so you won't even have to worry about the ironing, either. You can even gift yourself and relieve the stress of preparing for the holiday reunions, from preparing your home to getting scrumptious feasts ready.
Stripe details can add an edge to just about any bathrobe, and with Boca Terry's Satin Stripe bathrobe, you'll get a fittingly contemporary take on a classic look. The gleamingly smooth fabric takes elegance to a new peak.
The rich appeal is adorned with a French terry knit lining. This robe is ideal for preparing for a major occasion. Whether it's a winter wedding or singles party, everyone can get pampered for a big day.
A luxe Assortment
Make this holiday season a memorable one with a quality bathrobe from Boca Terry. Complete a gift set with a pair of our comfy and skid-free slippers and/or other spa accessories. You can even have a personalized experience by adding custom embroidery to your bathrobe order.
For more information on our products, contact Boca Terry today and let us help you and your guests enjoy a very special holiday season.
Share this item with friends