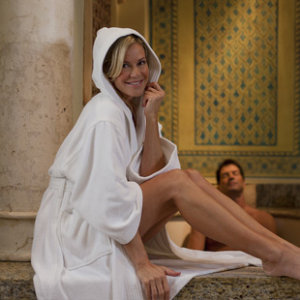 With winter on its final leg, you will need to know how to keep your guests warm, and cozy until spring! Looking for new ways to keep your guests happy—and maybe even healthy? Here are the top reasons why you will need to treat your guests to a hooded bathrobe this season:
1. Unmatched Warmth
In winter, we all want one thing: warmth! While the snow is falling outside and the cold wind is rushing by, wrapping up in warm, durable, quality layers of clothing is an essential practice. Whether hanging out at home, getting ready to go out, or just coming out of the shower, no one can resist a warm, hooded bathrobe this season.
2. Extra Absorbent
As you know, cotton is famed for its ultimate level of absorption. You'll want to get warm and dry before heading out into the elements. Boca Terry's signature bathrobe is crafted from top quality, absorbent, 100% combed cotton terry or velour and features a soft, cozy design.
3. Drying Hood
The extra large hood offers more than just a fashionable look. It helps to dry hair naturally, before heading out into the cold! Your guests' days of frozen hairstyles are over. Plus, this hood is bound to keep them warm as they start getting ready for the day! Our bathrobe's extra-large hood offers the ultimate in warmth—don't miss out before winter's end!
 4. Long Length
Length is an important factor when it comes to the warmth of a bathrobe. Lucky for you, this 48" Hooded Bathrobe is paired with 17" sleeves. It typically meets mid-calf on most wearers—meaning that almost no body parts are left out in the frigid temperatures. Plus, this long, blanket-like robe helps to trap the heat in!
5. Top Quality
Terry cloth, the most popular fabric used for towels, is strong, durable, long lasting and incredibly absorbent. Made from cotton, terry cloth is comprised of tiny loops that catch water. The longer the loops, the more absorbent the towel is.
Not to mention, 100% combed cotton makes all of the difference. All cotton is combed to some degree to remove debris and seeds from the cotton plant. However, cotton that is combed once or twice more results in a much finer fiber. The shaggy, loose fibers are combed out, leaving only long strands, which are spun into a soft thread.
Finally, our manufacturing quality ensures a better product than many others—and we are quite proud of our manufacturing!
Picking up a cheap bathrobe at the nearest store doesn't sound like a horrible idea at first—until you put this towel into action. Cheap bathrobes are typically not very absorbent, tend to produce a lot of lint (due to the use of uncombed cotton) and often even suffer from pilling after washing and drying. Go with your gut—quality is always worth it.
6. Fast Shipping
Don't get left out in the cold. Be sure to stock up on the items your guests are demanding—but, if you happen to forget, there is always good news: Boca Terry offers fast shipping for all of our products!
7. Perfect for Relaxation
Whether your guests are on a romantic getaway or a business trip, nothing beats lounging and relaxing—except lounging and relaxing with a cozy bathrobe! Let your guests snuggle up in something special this season. You will not regret investing in Boca Terry's luxury hooded bathrobes.
8. Completely Customizable
Make sure your bathrobes show off your brand's personality! Pick a pretty pattern or embroider your logo on your robes. Feeling extra generous? Embroider your guests' names on the bathrobes and offer them as a promotional gift!
Customize your bathrobes for two reasons: 1) to stand out in the memory of your guests and 2) to offer your guests a special treat. Whether you opt for a customized pattern or personalized embroidery, your visitors will be excited to see your name—or theirs—on your bathrobes. Go ahead, give away a few!
9. Affordable
With so many companies delving into the bathrobe industry, it is important to differentiate the best bathrobes makers from mediocre manufacturers. Because consumers and buyers prefer the highest quality product for the lowest price, manufacturers and suppliers need to continue to create innovative ways to lower production costs and provide affordable products made from quality materials. However, many companies use shortcuts, utilizing poor quality fabrics. Bathrobes should always be made from great materials.
Final Tip: Don't Be Fooled
Even cheap bathrobes might feel good at the store! Many manufacturers coat their robes with a softener so that customers will be drawn to the soft nature of their product in store. However, after a few washes, this softener wears off—leaving buyers with dry, brittle, scratchy bathrobes. Always ensure that you trust the brand you are dealing with.
Invest in the Best: Treat Your Guests to Boca Terry
Boca Terry knows that you are committed to success—that's why we are, too. We are committed to offering the best in bathrobes, towels, and spa accessories in luxury quality, at wholesale prices. If you have questions about wholesale pricing, or if you would like to place a bulk order for our affordable, luxury products, don't be shy—contact us now!
Share this item with friends