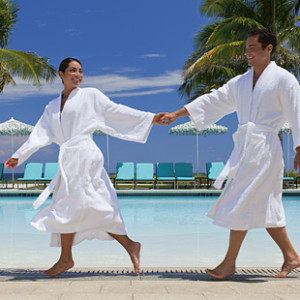 You can thank the hospitality industry for the opportunity to experience the relaxing, romantic weekend getaway or perfectly planned family vacation! However, try as they might, the industry doesn't always impress guests during every waking moment of business. Every once in a while, you might experience a fluke. Here are Boca Terry's best and worst hospitality industry traits.
All-Inclusive: Love
What's not to love about all you can eat food, all you can drink beverages, and all the fun you want without stepping foot off the resort? There are no hidden costs; many of the resorts even prohibit tipping, since it is taken into account when determining the price of your stay.
Free Breakfast: Hate
Although it is hard to hate anything free, the breakfast included in some hotel stays is nothing to brag about. Bagels, small boxes of cereal, 2% milk, and corn-syrup infused cranberry juice from a strange dispenser are (unfortunately) some of the highlights here. After breakfast, you will probably feel as if you ransacked the nearest gas station convenience store for your meal.
Chef-Owned Restaurants: Love
We, along with every foodie on the planet, are obsessed with chef-owned restaurants located inside of hotels. When you stay at these locations, it is like having your own personal, famous chef at your doorstep.
Mini Bar: Hate
Yet another way for the industry to earn an extra bit of cash, the items in a hotel mini bar are often marked up at extreme levels. To make matters worse, that overpriced can of sour cream and onion potato chips is nearly irresistible when midnight cravings begin to kick in. Do yourself a favor and ignore the calorie-laden snacks on your nightstand.
Free Wi-Fi: Love
No, it may not be the best high-speed connection around, but free Wi-Fi saves your precious smart phone data while away from home. You can surf the web in your cozy hotel room without needing to run to the nearest coffee shop. After all, buying a $4 coffee so you can surf the web at a cold, little table every few hours is definitely not free.
Room Robes: Love
Find us a person that doesn't enjoy lounging in a warm and cozy, freshly washed robe, free of additional charge to them—we dare you. Chances are, you will be hard pressed to find one. Go ahead, snuggle up in your room or by the pool in the most comfortable robe of your life. You can thank us later for the tip.
Valet: Tie
This really depends where you are. If you are in a big city like Miami or Los Angeles, then splurging on valet is a great idea: you won't need to worry about where you can find parking, how much it costs per hour and whether or not your car is in a safe area of town. However, if you are in Corntown, Iowa, paying for valet might be a waste of your hard-earned cash.
Infinity Pools: Tie
The infinity pool is a glamorous experience. You will feel like a star while lounging in the crystal clear, shallow water. However, that is just the problem: it is incredibly shallow—about three feet deep. Save your dives, cannon balls, and other fun tricks for another pool. Your unharmed body will thank you.
The Results
In every business, customers will always find things to adore and absolutely abhor about the industry. While we dislike a few things about the hospitality industry, we enjoy way more things. We love the hospitality industry that goes out of its way to make sure we are comfortable and feel at home. Bravo, helpful hospitality workers! We thank you from the bottom of our heart.
Share this item with friends