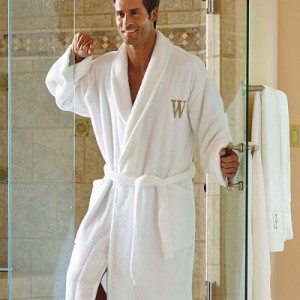 As Miami, Florida's premier hotel bathrobe supplier, Boca Terry continues to exceed expectations with our classically styled, trend setting products. Providing the hospitality industry with luxury robes, our reputation for exceptional materials, impeccable attention to detail, and highly affordable prices is what keeps us at the forefront of the industry.
Defining Your Brand
Helping you define your brand through luxury products is something we've been doing for many years. Our immersion in the business has allowed us to perfect our manufacturing techniques and refine our production methods in order to bring you the quality bathrobes you deserve.
Priding Ourselves on High Standards
At Boca Terry, we pride ourselves on our high standards, testing every piece for durability. Using top tier fibers, we make sure that every stitch holds up to rigorous scrutiny in order to ensure that our materials hold up to years of use.
Standing By Our Commitment to Excellence
We know what it takes to make a good bathrobe, and we stand behind our commitment to create the best and widest assortment to satisfy the needs of your establishment. Our catalogue includes a range of models that are perfect for various scenarios, such as spa services, bridal parties, honeymoons, birthdays, or just lounging by the pool. We also create robes that are just right for each season, with varying weights and thicknesses appropriate to warm or cold weather conditions.
Factory Direct Products
Our factories are based in China, Pakistan, Turkey, and Columbia where we employ the most seasoned craftspeople to execute the designs we create. From here, finished products are transported to one of our distribution centers where they are then sent, factory direct, to our top tier clients around the globe.
Distribution Centers that Ship Anywhere in the World
With a major distribution center located in Miami, Florida, we can ship easily and quickly to all of our east coast customers. We also have distribution centers in Los Angeles and Hong Kong, which is another factor contributing to our reputation for being able to send our merchandise anywhere in the world, where it always arrives on time.
Keeping it Economical
Along with our exceptional dedication to the details of style and craftsmanship, we also make sure that we can keep our prices down, especially in comparison to the competition. With no middleman, we have successfully cut a large chunk out of extra expenses for our clients. Our one-size-fits-all unisex robes are another way that we keep costs down, as bulk orders do not have to be made according to varying sizes, unless it is a special plus-size order. Another way that we help you keep to your budget is by making sure that every one of our robes wears well under proper laundering conditions. This means less replacement for robes due to wear and tear.
Quality Control
Sourcing our own materials gives us greater control over quality, as we handpick the best and oversee all aspects of production and manufacture, from the initial stages right up to the moment our robes are shipped to you. As experts in yarn purchase, weaving, washing and drying methods, as well as what is happening up-to-the-minute in today's trends, we have built impeccable relationships with fabric suppliers, and all the other contributors to the chain that contributes to a final Boca Terry product.
Customized Bathrobes that Keep Your Brand Front and Center
Because a custom robe is one of the best ways to keep your brand front and center in mind of the public, we pride ourselves on exceptional embroidery designs that correspond to your logo or emblem. Providing your guests with a robe that displays your logo on the front is the perfect way for them to feel like they are a part of your special world. This is also another way to make an impression when you are giving out promotions or if you have an online boutique where you sell your hotel or spa merchandise.
Some Examples of Our Line
With the plethora of designs we offer, here is a quick taste of some of the luxury styles you will find in our inventory:
Terrycloth robes made with uncut loops that create a sensually thick pile that absorbs moisture quickly. Cozy, warm, and stylish, order our hooded version for greater warmth around the head and neck.
MicroFiber robes that are lined in French terry and boast a soft 85% polyester and 15% satin shell. Absorbent and enveloping, you can also order a light version for warm weather.
Satin Stripe robes in a kimono or shawl collar with cuffs style are sumptuously lined with French terry knit. The double belt loops for waist adjustment and the handy loop in the back for easy hanging makes these a must.
Going Organic
We also have a bevy of beautifully created organic cotton bathrobes that will provide your guests with ease and comfort while paying attention to holistic practices. Eco- friendly and toxin free, at Boca Terry we feel it is essential to pay tribute to environmental awareness and the health of your guests, as well as the cotton harvesters themselves.
Helping Your Guests Enjoy a Luxury Experience
Your bathrobes are perfect example of how you present yourself, as well as your ethic when it comes to hospitality and the care of each person who enters your world. The hospitality business is extremely competitive, as you know, making it essential that your guests remember your dedication to their luxury experience. They have come to you to shed the daily grind, spending their money to get away from it all. Stepping into a beautiful robe is their first step away from quotidian life as they take a few days to forget about it all.
Providing You With Quality Amenities
Pampering your guests goes a long way. Let Boca Terry help you supply the quality amenities you will be remembered for, providing a simple elegance for men and women with our incomparable collection of luxury robes.
Contact Us Today
For more information on our line, please contact us today using our online form or by calling (877) 421-6001.
Share this item with friends