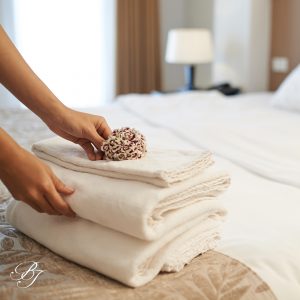 By instituting new, sustainable hotel linen care policies, hotels and resorts can reduce their operating costs and their environmental impact.
As it turns out, saving the environment and reducing hotel operating costs go hand in hand. Studies show that hotels that participate in environmentally friendly hotel linen care programs "increase the lifespan of towels and linens." As a result, those hotels reduce their linen replacement expenses. Here are some tips on how to make a serious impact, both in sustainability and cost savings.
Smart Selection
First of all, conscious hotel linen care begins with choosing the perfect luxury wholesale hotel towels. Our 100% combed cotton towels can endure countless washes while providing maximum comfort to hotel guests.
Low Temperature Wash
For generations we've believed that hot water is the only way to properly clean linens. However, "progress has brought us much better washing machines … and far better laundry detergents." Lower temperatures result in energy savings, reduced water consumption, and extending "the lifespan of linen 30 percent or more."
Proper Training
Hotel hospitality leadership should carefully "train employees … to ensure linen is treated correctly." To see the greatest impact, hotel linen care policies must be implemented by every member of your staff.
Encourage Guests to Reuse
Informing your guests about the perks of reusing their towels benefits the environment and your linens. In 2014, the Environmental Protection Agency began the WaterSense H2Otel Challenge. The goal is for hotels to "reduce water use, minimize operating costs and to meet the sustainable expectations of today's travelers." The American Hotel and Lodging Association estimates that this program "reduces the number of loads of laundry washed…by 17 percent."
Repurpose Your Towels
When your towels near the end of their lifespan, be sure to connect with programs like Diversey. Diversey donates overused towels to charities and individuals displaced by natural disasters. With their guidance, "hotels can recycle their unwanted linens in a way that makes a real difference."
Proper hotel linen care requires careful planning and constant training. It also involves cooperating with third party organizations to ensure that your linens have a second life. Most importantly, hotel linen care begins with wholesale bath towels that are as durable as they are comfortable.
Share this item with friends