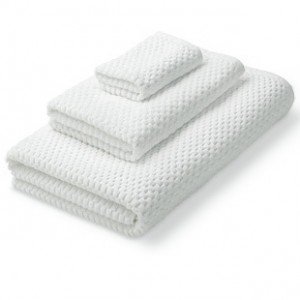 Luxurious towels in the bathrooms of hotels let guests feel pampered. It should not come as a surprise when towels are missing from hotel rooms because vacationers want to recreate those treasured vacation memories. Boca Terry Luxury Bathrobes manufacture towels, bathrobes, and other accessories for its retail and wholesale customers.
Whether it is custom bathrobes or towels for resorts, spas, or department stores, customers receive the same quality constructed products with attention to detail. Boca Terry has the ability to develop and design an entire line of products for customers including custom embroidered bathrobes, slippers, towels, and spa accessories. A hotel spa can have its bathrobes, spa wraps, headbands, and slippers customized with an embroidered logo or name. Additionally, they can sell these customized items to spa clients. Companies use embroidered products as promotional giveaways, incentives, and rewards for their customers and employees.
History
In 1996, Bruce and Edward Cohen opened their family-owned business with more than 50 years of combined manufacturing experience. The company started with customized products like towels and spa accessories for the hospitality and product promotional industries. Boca Terry's warehouses are in Deerfield Beach, Florida, with others are in Ft Lauderdale FL, Los Angeles, California; Vancouver, Canada, London, England; and Hong Kong, China. The United States, Far East, and Europe are the company's distribution points, set up for the quickest response to customers' needs.
It is the goal of Boca Terry to meet deadlines when shipments are delivered and to ensure that all orders handled with care. Although it is important to produce quality products, it is equally important to meet and exceed each customer's expectations. Five-star hotels across Europe and the Far East use towels and spa accessories manufactured by Boca Terry.
Services
If companies want to customize towels and other accessories with a logo, monogram, or emblem, customized embroidery is available. The creative consulting team will oversee and assist with the design elements to manufacture and create unique items for companies of all sizes.
The embroidery process begins with digitized artwork sent to Boca Terry. Then the work is completed by one of its factories. Prototypes for embroidered products originate at the Florida headquarters, and the overseas factories receive completed prototypes for product sampling. Additionally, customization is not limited to a color or design but can include fabric textures such as jacquard. With a wide selection of fabrics and products to choose from, customers have many design options.
Product Manufacturing
Boca Terry has its own factories located in China, Columbia, India, Pakistan, and Turkey. Direct access to these factories means there are no intermediaries and therefore a competitive pricing structure. The woven fabrics used in the finished towels come from Boca Terry's own factories and are subjected to lab testing for durability and performance.
While developing and manufacturing products are the main functions of Boca Terry's business, guaranteeing supply distribution of its wholesale cotton products sets the company above its competitors.
Contact Boca Terry today for all your luxury toweling needs by e-mailing info@bocaterry.com, calling 954-312-4400, calling toll-free at 877-421-6001, or faxing 954-312-4420.
Share this item with friends