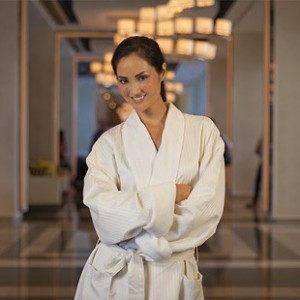 A beautiful bathrobe is the ultimate symbol of luxury and comfort, especially when it is made by a company that knows all about the best in fabrics and craftsmanship. At Boca Terry, we use only the finest quality materials to ensure that each one of your guests has the best experience while staying at your establishment.
Dedicated to Comfort
When guests see a sumptuous robe ready and waiting for them, there is an immediate understanding that you are attending to the important details. The fact that you are dedicated to comfort, to treating each person like royalty, never goes unheeded.
Sensitive to Your Guests' Needs
A gorgeous bathrobe means you are sensitive to your guests' needs. Whether it is lounging by the pool, relaxing in the room, or receiving spa treatments, a good robe helps people to relax, feel good about themselves, and fully realize that they are indeed away from home.
In the Best of Hands
The mission to offer the best products should extend to every element in your hotel, bed and breakfast, or spa. Your robes, towels, and everything else associated with your brand create a direct communication with each one of your guests, reminding them that they are in the best of hands.
Elegance and Exceptional Construction
As experienced suppliers of custom robes for the hospitality industry, we pride ourselves on the wide range of styles we offer. From fluffy terrycloth to sophisticated satin, Microtec fabrics, and eco-friendly designs, our robes are in demand for elegance and exceptional construction.
Being a Member of the Best Club
Slipping into a robe that features a custom design is like being the member of the best club. With a display of your logo, there is an even greater sense that one is a part of something special, which is a powerful way to make an impression while keeping your brand front and center.
Maintaining Longevity
We also believe that great robes are those that can stand up to many washings without ever losing their luster. Your guests should feel that they are wearing a brand new robe, no matter how long it has been in your inventory. The sense that everything is fresh is a powerful way to impress those who stay with you, and this is accomplished by choosing a company that uses and understands fabrics that maintain longevity.
An Emblem of Fine Treatment
If you look at the reviews of most hotels, bed and breakfast, and spas, invariably their robes are mentioned right at the top of the page. As an emblem of fine treatment, they are never to be overlooked. Making an investment in a viable assortment, will add to your guests' experience, inspiring them to recommend and book future holidays at your establishment.
Contact Us Today
With more and more people posting reviews on Trip Advisor and other review sites, it is essential that you provide them with a robe that stands out. For more information on our exceptional bathrobes, please contact us.
Share this item with friends