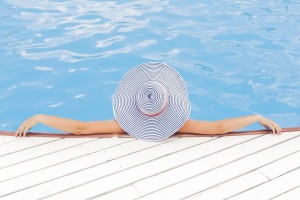 The first thing that should come to mind when you think of Labor Day is total relaxation with a quick escape from the "Monday blues." Just as you usually go to work prepared, you should do the same with this anticipated holiday. That's right, prepare to rest—and in style.
First things first, you have to decide where you want to spend your Labor Day:
At home being a couch potato, while watching back-to-back episodes of your favorite TV series.
At the beach enjoying watersports, tanning, and a frozen margarita.
At a new travel destination pampering yourself poolside at a luxe resort.
At the spa… shall we say more?
At the mall buying your essentials (and non-essentials) for some retail therapy.
At a friend or family member's house for a cozy house party.
Once you know where you're going and what activities you want to take part in, you can decide on what you want to wear—a bathrobe, of course! What can be better than wearing a versatile garment that provides you with comfort, privacy, easy maneuverability, and style all at the same time?
Although we wouldn't suggest wearing a bathrobe at the mall, you can pretty much wear one at every one of the locations mentioned above. If you're staying home to have a day or night in (or to stay in all day), a velour bathrobe can give you the comfort you yearn for. You can wear it at a friend or relative's place, too.
Prefer to go to the beach instead? You can use a lightweight terry bathrobe to replace your swimsuit cover-up and towel, and even match it with a lounge chair cover. Carry it in your bag easily without getting a sore shoulder.
Perhaps you're only thinking about the wonderful spa day awaiting you. You can match a pair of slippers with your collared bathrobe and you'll be all set to start taking in the soothing aroma of massage oils.
Bathrobes are the ultimate essential for making the most of relaxing on Labor Day. Simply match one of your preferred length and fabric to the pastime of your choice, and let the tranquility begin!
Share this item with friends