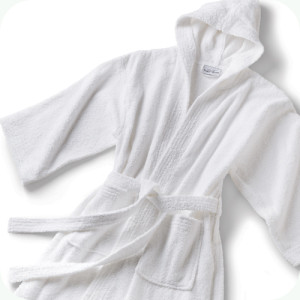 The bathrobe specialists from Boca Terry are often faced with the question, "How is a bathrobe made?" Whether this question arises while determining which bathrobe is the right choice, or because you are a naturally curious purchaser, you might find yourself with an abundance of questions. That is where we come in. Have you ever wondered how our bathrobes are made? Then you are at the right place.
Know the Process
First of all, understand that the process of manufacturing a bathrobe will be different among various companies and brands. Because of this, we cannot speak for each brand—we can only base our knowledge on our own experience and practices. When buying bathrobe from other companies, they might be manufactured in a completely different way!
We can say, however, that with over 50 years of combined manufacturing experience, we have spent plenty of time perfecting our manufacturing and distribution processes to provide businesses with the highest quality wholesale bathrobes, towels, and spa accessories available on the market.
Manufacturing: The Boca Terry Way
Boca Terry offers a unique manufacturing and distributing business model combination rolled into one. We take full ownership of the manufacturing process for each of our wholesale and retail bathrobe and spa accessory items.
During years of expertise in the manufacturing industry, Boca Terry has refined its manufacturing process down to a science. We conduct meticulous fabric research for quality, we craft unique, innovative designs, we practice sample making and we conduct systematic lab testing. You might be wondering, "what is the first step?"
1. Design
We have an internal team of designers who plan and develop each robe. They take several factors into consideration, including materials, durability, style, length, size, and more.
2. Fabric
Next, we will need fabric to construct our designs and bring them to life. All fabric utilized for Boca Terry bathrobes and products are woven at our factories, totally vertical from yarn purchase through weaving. This means that each piece of fabric used for one of our products was designed and developed for us. That is why, no matter where you go, no other robes feel quite like ours.
When making our fabrics, we source product from all over the world. This ensures that our quality and pricing standards are met, eliminating some of the costs associated with purchasing through suppliers.
3. Manufacturing
When putting together our products, we are careful to ensure the quality of each item. Because we already know that our products are made with the best materials, we know that they are durable. However, the manufacturing process can make or break the durability and quality as well! You will note that most of our bathrobes feature double stitching, hanger loops for storage, large pockets, and other features added during manufacturing to ensure a quality product.
See more about our manufacturing process on our website—and if you have any questions, don't be shy!
4. Custom Products
Once all that is taken care of, our robes are fresh—hot off the press, and ready to roll! However, when a customer asks us about developing custom products, there is another process that takes place. Our specialists and experts will work with you to craft the products that meet your personal requirements—whether through embroidery or customization.
5. Distribution
Finally, the last step in making a bathrobe is wrapping it up and sending it out to our customers! Because we keep a large stock available in south Florida, we are ready to ship at all times. This ensures that you never have to wait too long to finally get your hands on one of these robes!
Boca Terry Bathrobes: Crafted with Excellence
Boca Terry bathrobes are a worthy investment for business owners and individuals alike. Whether one is looking to offer affordable luxury amenities at an establishment, or just impress houseguests, our signature products are made with care.
In other words, our bathrobes are expertly crafted with you—and your customers, clients, or guests—in mind. We put so much care into the manufacturing of our bathrobes and other spa accessories because we value you and all of the hard work you've put into your brand or your home.
Now that you know all about how our bathrobes are made, why not try one on for size? If you are ready to make the move and invest in Boca Terry bathrobes or other products, you are at the right place. Contact us today for wholesale pricing, or to place a bulk order! Retail bathrobes and other accessories are also available for smaller orders.
Share this item with friends