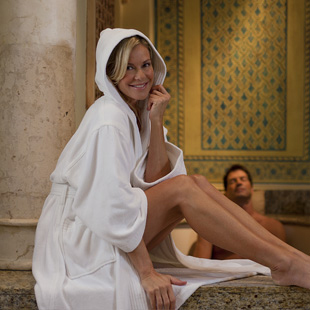 As much as we'd like to think we are noticed for our wonderful personalities, our generosity of spirit, and our brilliant intentions, most often people come away remarking on our good taste in shoes or bad taste in hats. The same thing is true when it comes to the hospitality industry. You may give the best in service, but if your amenities are lacking, this will be the first thing that most guests will comment upon and remember.
Attention to Comfort and Ease
We all know that when guests book a room at your establishment they are doing so to get away from it all. Even if they are on business trips, the idea of staying in a place other than their own domiciles means that there is a strong expectation that all services will be supplied with attention to comfort and ease.
Adding to the Vacation Experience
Any good hotel, bed and breakfast, resort, or spa, regardless of its price point, provides its clientele with amenities that add to the vacation experience. One of the most essential areas of attention is, of course, each personal room, as well as any spa or poolside area. This means providing guests with the highest quality linens, towels, and bathrobes, commensurate with the budget you have available for these essentials.
Paying Attention to the Basics
In our experience, with years behind us in the hospitality industry, paying attention to the most basic comforts of your guests is how you maintain and keep improving your reputation. At Boca Terry, we are dedicated to helping you both sustain and heighten your standing by providing you with our extraordinarily designed and manufactured towels and bathrobes at wholesale prices you can afford.
It's All in the Details
Speaking of bathrobes, choosing the highest quality speaks not only of your generosity, but also of your deep understanding of what your guests need when they come to unwind and regenerate. As the saying goes, it's all in the details, and when you provide a beautifully made robe in every room, you are most likely to remembered for your thoughtfulness and care.
Getting Your Rankings Up
There is a lot of competition out there. Every piece of publicity that your rivals place online and elsewhere is filled with great descriptions and photographs. Hotels are vying for the highest ratings all the time, and when you can provide a great bathrobe along with all the other amenities, it is a given that your rankings will go up through word-of-mouth and other types of recommendations.
Exceptional Bathrobes for All Occasions
Our exquisitely crafted bathrobes are rapidly finding their way into every major hotel, bed and breakfast, resort, and spa worldwide as their buyers recognize that with us, quality reigns supreme. Recognizing that investing in a sumptuous, perfectly fitting, and exceptionally styled robe pays off in both the short and the long run, buyers are turning to our Boca Terry inventory for robes designed for seasonal use, poolside comfort, after-spa treatment, and general lounging.
Treating Your Guests Like Royalty
Who doesn't yearn for the finer things in life? When you offer your guests a bit of luxury, treating them like royalty by giving them the most plush, luxurious fabrics in which to wrap themselves, you are soothing their senses and adding numerous points to your hospitality credit.
Standing Up Under Pressure
With every one of the many, many washings that a robe must endure, it is key that the material can stand up under the pressure. Our Boca Terry fabrics are selected with durability in mind, and all of our manufacturing processes are designed to ensure their longevity, along with their continued softness and deep comfort.
Boca Terry's High Standards
Some of our most popular styles that have helped many of our clients improve customer feedback are both our Satin and our Terrycloth bathrobes. As with every piece in our inventory, each robe is tested according to our high standards in quality, durability, and comfort. All of our robes are made as one-size-fits-all, including custom orders for plus sizes. Additionally, we are always ready to create a custom robe, working with you to incorporate your logo or emblem. Our state-of-the-art embroiderers will then ensure that you have an exquisite line that reflects your dedication to keeping your guests supremely satisfied and happy, while keeping your brand name front and center.
The Satin Stripe Bathrobe
Made as either a kimono type robe, or with a shawl collar, our Satin Stripe Bathrobe for men and women comes lined with a sumptuous French terry knit made of 80% cotton and 20% polyester. With a high level of moisture absorption, these robes are designed to envelop you as they wrap around in style and comfort. The double belt loops allow you to adjust the robe for waist height, a hanger loop on the inside collar makes it easy to hang on a hook to dry, and opulent pockets provide space for keys and other small essentials. Our shawl collar style comes with roll up cuffs and collar and is as elegant as it is stylish.
The Terry Cloth Bathrobe
The Boca Terry Cloth bathrobes come in hooded, shawl collar, or kimono style and are made of pure cotton or a mix of cotton and polyester. Soft and lush, they are made to drape beautifully as they wick away excess moisture and soothe the skin. Perfect for putting on after several laps in the pool, a deep spa treatment, or an evening soaking in the hot tub, our terry robes define luxury and sensuality.
Leave No Stone Unturned
Because customer feedback is so essential these days to the standing of your establishment, it has never been more important to pay attention to each and every aspect of what you offer. Remember always, you are being judged by the quality of everything that spells your brand, and in this regard you should leave no stone unturned.
Your Bathrobes Speak Volumes
As the perfect symbol of hospitality, your bathrobes speak volumes. When their language is Boca Terry, you can be sure that your customer feedback will be attracting the kind of business you deserve.
Contact Us
For more information on our wide range of exceptional bathrobes, please contact us.
Share this item with friends