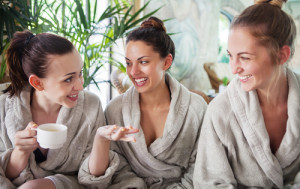 There are so many factors that fuse together to make for the perfect spa experience. As with any part of the hospitality sector, it's all in the details. Making sure that your guests have enough amenities to enhance their comfort levels certainly makes all the difference in assuring that they'll be paying your spa another visit.
In addition to having the right massage oils and experienced personnel to attend to your spa guests, you should also have the proper accessories to make their visit an absolute delight. That's where the spa wrap comes in. Having a spa wrap available for your guests will help your hotel stand out from the competition, as it portrays your attentiveness to your guests' comfort.
Sleek Appeal  
Upon entering the doors of your relaxing hotel spa and scenting the soothing aromas released all around, guests are instantly immersed into a world of tranquility. The yearning for the ultimate retreat in cleansing the soul is best welcomed by having all the necessities readily available.
Boca Terry's range of spa accessories includes luxurious spa wraps, headbands, and waffle blankets that can be set in just about any of your spa's rooms. You might choose to place a bath wrap along with a bathrobe in your guest's hotel room so that they may use them at their leisure, or just have the spa wrap ready at the spa with its corresponding accessories.
Versatile Disposition
Spa wraps can be used in several areas of your spa, regardless of your spa's size. Bath wraps are absorbent enough to effectively dry off water and oils. Additionally, guests can maintain privacy as they go from one place to another.
Boca Terry's selection of women's spa wraps is inclusive of Microfiber, Velour, Basic Waffle, and Knit Waffle fabric variations. Boasting a length of 32 inches, women's wraps secure above the chest and generally fall just below the knee.
As for Boca Terry's spa wrap line for men, it is available in Velour and Basic Waffle styles and secures at the waist along with covering to the mid-calf. Featuring a length of 24 inches, men's wraps are only available in white, a color your hotel can never go wrong with since it can pretty much go with any décor theme.
Elevated Functionality
Boca Terry's spa wraps are easy to throw over and can serve the function of a regular towel blended with the practicality of a bathrobe. Four snaps to secure the bath wrap allow for an adjustable fit.
Elastic allows for keeping the wrap fastened as you move around. Rather than worrying about constantly having to fold in a loose towel and prevent it from falling, spa wraps save the embarrassment of a blunder. They also boast a large side pocket for your guests to store belongings that they prefer to have in closer proximity to them.
Allure of Quality
Visitors will appreciate the refined and modish look of a high quality bath wrap that falls smoothly onto their skin. The quality of what guests are offered is a major influential factor on setting the mood for their day.
Your hotel can have the highest quality amenities readily available in guests' rooms, but if you don't provide the same optimal treatment and quality in your spa, other efforts may be tainted. The high quality materials Boca Terry uses in its spa wraps allows for guests to wear them outside of a spa's therapeutic rooms.
For instance, guests can wear their wraps while taking a quick break by the wet bar as they enjoy a warm or cool beverage. The spa wrap can accompany your guest when they take a dip in the pool or Jacuzzi as they complete their wonderful day of rest, or as they make way their way to the sauna or steam room.
Visitors might even want to lounge around and read a magazine while they wait for their facial. Both men and women can wear a spa wrap right after a gentle massage treatment or before they go in for a revitalizing mud bath.
The lightweight and smooth nature of the wraps' fabric breaks through any limits as to where else spa goers can benefit from the plush make up of their spa wraps. In keeping with the rule of traveling light, getting spa treatments with light accessories is essential.
A Gift that Keeps on Giving
A great way to make a lasting impression is to give guests a parting gift they'll be able to use all year long. Whether or not it's the holiday season, there are so many ways you can personalize a gift for your guests.
You can give them a spa wrap when they are leaving the spa or have housekeeping place one in their room to come back to after the spa. The element of surprise can go a long way, especially when it's comprised of a luxe and useful gift.
Every time your guests wear their spa wrap, they'll remember their amazing experience at your hotel spa. You can even create a gift basket containing the bath wrap along with some other accessories like Boca Terry's Closed Toe Slippers.
The Royal Touch
Thanks to the fact that Boca Terry's spa wraps can easily be washed without suffering the consequences of frequent intensive wash cycles necessary by hotels, your spa wraps can remain in great condition. Your guests should feel like royalty, with there being no such thing as an excess of comfort.
To complete the hotel spa experience for your visitors, you can pair the spa wraps with Boca Terry's bathrobes and slippers, to make sure there is no shortage of options. Just as you can add custom embroidery to Boca Terry's bathrobe collection, you can customize your spa wraps with your hotel's monogram, as well.
Contact Boca Terry
Boca Terry has been manufacturing quality cotton products for quite some time now and has perfected creating the ultimate spa wrap. Contact us today to help you decide on the perfect bath wrap for your hotel spa.
Share this item with friends