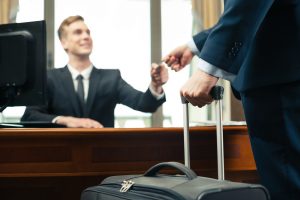 Terry bathrobes plus these other free gifts can help seal the deal
If your hotel is in or nearby a major city, you probably get your fair share of business travelers. The question then becomes how can you get more of them? With so many other hotels in the area, the competition is always fierce. On top of that, now you have to deal with the home-sharing craze.
So, what's the best way to get business folks to stay at your hotel and – more importantly – make them want to keep coming back? Free gifts can do the trick, but you have to be wise about what you offer. Here are some ideas to think about:
Basic supplies
One of the best things you can do for your guests is to anticipate their needs. Because business travel is usually about getting places quickly, things can get left behind. One of your guests may have remembered the flash drive with his presentation on it, but maybe he forgot to bring his razor. Having a kit with essential hygiene supplies in the room will be appreciated by folks who check in late, have to get up early, and don't want to have to find an all-night pharmacy in a strange city. Things like lint rollers and combs are also great items to put in the room ahead of time.
Food and drinks
Forget the mini bar that's stocked with goodies nobody wants to be charged for; give your guests free food and drinks. You could go as simple as a few bottles of water and maybe some bags of nuts or go a little further with soda, juice, or candy. You may want to think about offering some local items, perhaps coffee or cookies from a great nearby bakery. Tasty treats your guests can't get at home always make a great impression.
Alcoholic beverages may also be sorely welcomed, especially at the end of a long day of meetings – this is where limited, free happy hours for business travelers can make an impact.
Garment bag
Business travelers will almost certainly be bringing a suit or two or some other work clothes to wear. And while they may be arriving with their own garment bag, if you provide them with a beautiful new one, they could be leaving with yours. In addition to a nice gift, you will now have somebody walking around with an item showcasing your brand.
Hotel bathrobes and slippers, of course
Anyone who has ever traveled for business knows that it can be hectic, frustrating, and uncomfortable. Whether they have just gotten in after a long flight or stumbled back to their room after hours of meetings, presentations, and handshakes, above all your guests are going to want to relax. You'll look like a hero when you have an amazingly soft robe and a pair of cozy slippers, which is why Boca Terry should be your trusty sidekick. The comfort and quality of our items are unmatched, and your guests will love nothing more than slipping them on at the end of a long day.
To supply your hotel with the absolute best robes and slippers – as well as towels – get in touch with Boca Terry. Fill out our online form to find out about our wholesale pricing for hotel bathrobes.
Share this item with friends