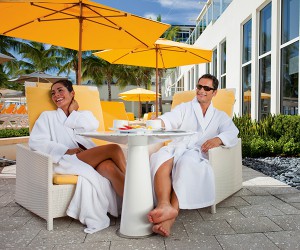 Hotels have constantly been enhancing their facilities to fit the increasing demands of today's consumer society. While improving amenities and increasing technology's role during guests' stay is critical for creating the ultimate experience, going above and beyond is constituted by more than just incorporating personalized welcome messages in guest rooms.
A hotel spa automatically exudes the aura of relaxation, as do the pool and beach areas. Whether the pool is indoors or outdoors (or both), having relaxing bathrobes available for guests can turn their entire stay into a truly luxurious one. The following are the ways lavish bathrobes can bring a comforting aura to your hotel's pool space.
The Face of Luxury
Everyone enjoys a splurge, especially when staying at an oasis of comfort. The use of bathrobes dates back to the 1920s when the popular dressing gowns were elegantly worn to welcome houseguests. The style was reminiscent of the 18th century lounging dress code of the noble class.
Today, bathrobes still hold that same appeal of luxury and have taken on several forms to fit a myriad of settings and uses. For maximum absorbency, cotton terry fabric has become a favorite for use around wetter environments. It can look great on just about any bathrobe style and maintain a luxe look and feel.
A Flexible Nature
The versatile composition of bathrobes makes them an ideal accessory for using to:
Take cover – Serve as excellent swimsuit cover-ups.
Replace towels – Bathrobes can take the place of towels to dry up in.
Stay snug – Besides feeling extra smooth, these garments also keep guests warm.

Whether your guests are going for a swim or are off to the shower, a high quality bathrobe will have the ability to absorb tanning lotions, oils, and water with ease. Your guests can be protected from chilly air, thanks to the bathrobe's air circulating nature that will also help them keep cool during warmer days.
Guests can lie down or have a seat and enjoy a meal or drink by the pool in their bathrobes. Plush terry cloth or velour garments can easily be thrown on and taken off. They're also easy to fold and store, which makes them ideal for transporting and stacking alongside the pool.
Infallible Wear
At Boca Terry, our luxury bathrobes are made with the highest quality fabrics in the industry to ensure a durable build and extra comfortable fit. We've been in the bathrobe manufacturing industry for over two decades and have grown our expertise in utilizing the best methods and tools in the industry.
None of our bathrobes leave our factories before being individually checked to make sure they meet our quality control standards. The long-lasting nature of Boca Terry bathrobes can be seen when they're washed frequently so as to meet the hospitality industry's sanitary standards.
Even after undergoing several washes, our bathrobes still maintain their lush structure. They come with spacious pockets along the front so hotel guests can store their personal belongings and keep them close.
Additionally, each bathrobe comes with double belt loops so the belt height can be adjusted to fit any silhouette. Although our different bathrobe models are marked by a one-size-fits-all composition, some of our lines are also available in plus sizes.
Options for Every Preference
At Boca Terry, we understand the importance of offering customers several bathrobe choices to choose from in order to cater to each one's preferences. That's why we carry a variety of collections that are perfect for adding an opulent charm to any pool deck. Here are some of our most popular poolside bathrobes:
Basic Kimono
Classic Shawl Collar Bathrobe
Hooded Bathrobe
Microtec Bathrobe
Microterry Bathrobe
Mini Stripe Bathrobe

In addition to the above, Boca Terry offers an eco-friendly selection of bathrobes. Our organic bathrobes line is a favorite among environmentally sound hotels and guests. Since these bathrobes are made without the use of pesticides and other chemicals, they're also useful to wearers with allergies or skin sensitivity.
Our Organic Basic Kimono and Organic Classic Shawl Collar bathrobe both come in terry and velour alternatives. The 100% certified organic cotton seals the deal for emanating true richness.
Customizable Indulgence
By having luxury bathrobes at your pool deck, you can be sure that every guest will get the sense of being pampered, no matter when they choose to wear it. With style being at the center of luxury, guests can enjoy a more exclusive experience with a customized bathrobe.
At Boca Terry, all of our bathrobes and spa accessories are customizable. Our expert designers can create the style you're looking for. Whether you'd like the bathrobes to display your hotel's name, logo, or emblem, the choice is all yours. You can accent your product line while enhancing your brand loyalty.
Completing the Look
Create the full package by combining your bathrobe selections with matching slippers and lounge chair covers from Boca Terry. Our open-toe and closed-toe slippers come in various fabrics, including terry, microterry, and unisex waffle, among others. Featuring non-skid PVC soles, pool guests won't have to be afraid of any slips or falls.
Our quality lounge chair covers can also be customized to match your hotel bathrobes for an extra dose of comfort. Guests can lie back and relax without having to fret fixing a fallen towel. The chair covers are available in terry and velour versions. Choose between a fitted or elastic hood for the terry covers.
Call Boca Terry for Your Hotel Pool Bathrobes  
Boca Terry's wide assortment of bathrobes can fit into any décor theme and give guests the treatment they yearn for. Our high quality bathrobes have been gracing some of the most renowned hotels in the industry.
For more information about our luxury products or how to get started on your order, contact Boca Terry today.
Share this item with friends