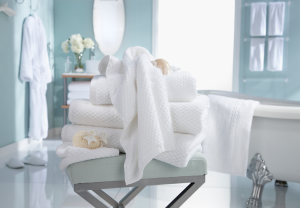 When guests step into their hotel rooms for the first time, the overall aura they're immersed in usually sets the mood for their entire stay. Whether they're staying for one night, a week, or longer, first impressions are everything.
A room's atmosphere is made up of several elements—and those that ooze comfort are the ones that have guests affiliating a pleasurable experience with the hotel brand. Luxury towels are among those amenities that'll leave a memorable impression on any guest by assuring ultimate satisfaction.
Fitting for Any Theme
At Boca Terry, our luxury towel collections are made to cater to the preferences of different guests. The Sunny Lane Collection is dominated by a lavish terry finish that's both soothing to the sight and touch.
Our Resort Collection also features an elegant texture marked by an overall check pattern accompanied with a dobby border. Both lines are suitable for fitting the setting of just about any hotel, while exuding a plusher appeal.
Towels of Varying Sizes for Various Uses
A guest's experience could begin as early as when they step into the hotel lobby to check in. Along with having the lobby windows, surfaces and floors (among other areas) well maintained with a thorough cleaning regimen, guests should feel like they're being pampered from the minute they're greeted.
You can offer your guests crisp beverages along with warm, damp washcloths to freshen up with. That small gesture begins with a towel and automatically translates into a sensation of being surrounded by quality treatment.
That's one of the reasons why it's important to consider having towels of varying sizes to accommodate visitors' needs.  At Boca Terry, our two luxury towel collections are comprised of towels of varying sizes:
Washcloth
Hand towel
Bath mat
Bath towel
Bath sheet

Having varying sizes is critical for making sure that guests can use the towel they need when they need it. Think of the difference in convenience it makes when guests have a bath towel and hand towel available, along with a matching bath mat and hand towel.
Maximum Absorbency and Durability
Luxury comes with offering a product that can serve its purpose to the fullest potential. Having a towel that can't efficiently absorb water is like having a sink without running water—each element must exist in parallel to the other in order to be operational.
Boca Terry's towels are each made with 100% combed cotton terry to assure a strong hold made to offer the highest level of absorbency.  Since each towel is composed of fibers intricately woven using the latest manufacturing techniques in the industry, they are made to provide a smooth feel whenever and wherever they're used.
Since our towel collections are each made up of towels marked by the highest quality, they can withstand the numerous launderings necessitated by the hospitality industry. Maintaining sanitary standards is another important facet of keeping guests satisfied.
Both you and your guests can always be rest assured that the feeling of comfort will be uncompromised by placing towels in the wash several times. Even guests who are more eco-friendly than others might actually prefer to have their towels washed after every use for a more refreshing feel.
Ongoing Contentment
Guests like the idea of being able to go to a hotel pool, gym, or spa without having to worry about taking a towel with them. When you have them readily available all the time, visitors will appreciate that extra dose of feeling spoiled.
You should always keep extra towels in storage in case a guest requests one or more additional ones for any reason. If you prefer to have a fitted towel ready for guests to lie down on at the hotel pool or beach, you can also opt for choosing among Boca Terry's snug lounge chair covers.
Our lounge chair covers come in the following versions:
Terry with fitted hood
Terry with elastic hood
Velour stripe with fitted hood

Gone are the days when guests have to worry about their towels falling down from their chairs and having to carry extra ones with them. The universal fit of our lounge chair covers makes it easy to use them in an array of locations.
A clean finish is an absolute necessity for assuring that a towel maintains its luxe structure. If a hotel guest spots any signs of wear and tear on their towels, it can affect their perception of the type of quality they're receiving during their stay. With Boca Terry's towel selection, you won't ever have to fret finding hanging threads and damaged hemmed lines thanks to the quality build.
Customizing an Experience
To give guests the ultimate feeling of luxury, customizing towels with a hotel's logo or emblem is one of the best ways to do it. At Boca Terry, we can customize all of our towels, bathrobes, and spa accessories and help your establishment grow its brand loyalty.
When guests use a personalized towel, they instantly get the sense of being enwrapped in a unique form of luxury—the kind that they yearn for when on their getaway. For any hotel to stand out among its guests, the amenities offered must set it apart from any other establishment. Customized luxury towels are the route to take to do so.
Contact Boca Terry 
Boca Terry has been providing the best hotels in the industry with luxury towels for quite some time now. We take pride in being perfectionists and making sure that each towel that leaves the doors of our factories meets our quality control standards.
For more information about our collections and how to place an order, call Boca Terry today. One of our knowledgeable team members will be more than happy to help you with any of your questions.
Share this item with friends