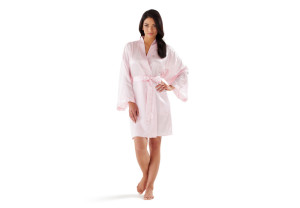 To have a day or night well spent, it all starts with immersing yourself in the utmost comfort. Whether you're coming home from a long day at work, or you're enjoying a relaxing vacation, you need a luxurious bathrobe that can accompany you during your unwinding time.
At Boca Terry, you'll find a large range of ultra cozy bathrobes that can step up to any occasion. If you're looking forward to spending some time indoors, an extra smooth and silhouette-complimenting bathrobe will get you to the climactic point of relaxation. That's exactly what our Pink Kimono Satin Robe will do for you.
Stay in Your Comfort Zone
You can kick back and relax without a care in the world, while wearing this soft-as-a-feather 100% polyester number. Boca Terry's Pink Satin Robe is manufactured with quality assured techniques that ensure the creation of an exceptional garment.
This Japanese-inspired style exudes an aura of elegance the instant it's worn. Flaunting a contemporary, yet classic façade, this chic robe can cater to an array of age groups. It will add a luxurious feel to any setting, whether you're at home or staying over a friend's house.
The Pink Satin Robe comes with large front pockets, so you can store your belongings and keep them close wherever you are. You can store an intriguing novel in between reading it and making a cup of tea or coffee. Keep snug by the fireplace during the cooler days or nights.
Spa Day Motivation
When you have such a practical garment near, it makes it easier to feel pampered. You can instantly have a spa day no matter where you are. Get the massage oils and lotions ready for a day designated especially for rest.
If you're getting any spa treatment, the Pink Kimono Satin Robe can easily be hung using its hanger loop, or it can be folded. Say goodbye to ironing constantly, thanks to the wrinkle-free polyester composition.
Pair it with Boca Terry's range of spa accessories and towels, and you'll always be ready for creating your own spa oasis any time! Some of the spa accessories you can find at Boca Terry include headbands, spa wraps, slippers, and waffle blankets. You can opt for closed-toe or open-toe non-skid slippers.
Privacy Improvement
In addition to helping you have the best spa day and immersing you in an atmosphere of pure luxury, the Pink Satin Robe can also help you keep decent. If you happen to get an unexpected visitor, you won't have to worry about having to run to your closet to get changed; you can simply throw the robe on for cover.
For whatever reason you might have to step out, whether it's to water the flowers or to walk your dog, wearing this bathrobe will offer the coverage you need. You can even wear it to go from your hotel room to the hotel spa.
If you're having houseguests over and they extend their stay, you won't fret having to rush to the restroom every time before your privacy is invaded. You might even want to have some bathrobes ready for your houseguests, too.
Tier One Versatility
You can wear your robe to get ready to go out after staying in all day, too. Whether you want to put some makeup on or blow-dry your hair, the lightweight Pink Satin Robe is easy to wear at any time.
You can update your lounging wardrobe with a timeless shade of pink. The robe radiates just enough shine to maintain its lavish appeal, while remaining within the reigns of everyday wear.
If you prefer to stay indoor, but away from home, you can also effortlessly pack your robe without having to lose space in your bag. This sleek essential is perfect for hosting or attending a slumber party or a movie night, where you and your friends can all feel pampered.
The robe's polyester fabric allows for easy movement, and the cuffs can be rolled up when necessary. In addition, the belt height can be adjusted to fit just about every body type, thanks to the garment's one-size-fits-all nature.
Long-Lasting Quality
Since Boca Terry uses the highest quality fabrics in the industry, our bathrobes can be worn several times after undergoing several launderings. You can easily wash the Pink Satin Robe after use and have it ready for the next time you'd like to wear it.
The durable fibers that make up its composition help maintain the quality of the robe. That means that even after you wash it, you'll still be able to constantly feel a smooth embrace.
Make a Fashion Statement with Boca Terry
At Boca Terry, you can personalize your robe by adding custom embroidery to it. You can choose up to three letters of your initials to appear on the left upper front chest of the robe and select from over 20 different monogram colors and several monogram fonts.
You can even customize matching towels and slippers for a fully personalized look that is sure to bring a luxurious edge to your loungewear. At Boca Terry, all of our one-of-a-kind bathrobes and spa accessories can be customized to perfection.
Contact Boca Terry
Boca Terry has been in the bathrobe manufacturing industry for over two decades. During this time, we've established longstanding business relationships with the best fabric suppliers in the industry and have taken sole ownership of designing and manufacturing our merchandise.
For more information about how our Pink Satin Robe can make your time staying in worth your while, call Boca Terry today.
Share this item with friends