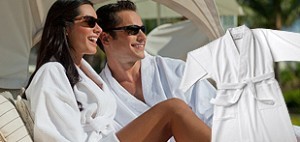 Are you familiar with the saying, "fashion comes before comfort"? Well, when it comes to wearing a stylish bathrobe, we beg to differ. You can still be the most modish on the block (or spa) without compromising your rest.
Bathrobes may not be the first article of clothing to come to mind when you're thinking about gracing the latest looks from the runways of Paris Fashion Week. But hey, if Rihanna and a few other fashionistas could pull off the likes of it, then so can you.
What about taking that a step further? What if you were to wear your bathrobe as if you were on the front cover of Vogue? It is possible with these simple tips that are not just limited to women… men listen up, too:
Replace Your Beachwear Cover-ups
We all have them—the shorts, dresses, and light shirts to cover up our swim attire when heading to the beach or pool for some water action. But there comes a time where even the most stylish need an upgrade in practicality.
Throwing a bathrobe over your swimsuit, will not only give you the amount of coverage you want (a little or a lot), but you'll also stand out among the crowd—in a good way. Everyone will envy your cover-up's versatility in providing you coverage with the ability to stay dry. You can even drop your bathrobe down along your waist area to show off your swimsuit.
Boca Terry's Basic Kimono in terry cloth is a great option for accompanying you to the sand castle area where buckets of water splash from left to right without tarnishing your style. The absorbent qualities of terry cloth help keep you dry and warm. Stay extra fashionable with a matching lounge chair cover.
Throw It over Your Pajamas at a Slumber Party
 You might think your PJs are already fashionable—and they probably are—but there's no such thing as having too much style, right? Going for a matching bathrobe  (or a contrasting one) can give you the edge your getup has room for.
You might want to show off your pajamas under your bathrobe, so you can just tie the bathrobe's belt on the back rather than closing the bathrobe on the front. That way, your bathrobe will look even more stylish with a bow on the backside, while your chic wardrobe remains visible.
On the other hand, if you're wearing something a little more on the skimpy side, you can keep some privacy and lounge around at your leisure with a bathrobe boasting your preferred length. Boca Terry's hooded, and satin bathrobe options are great for bringing style to your sleepwear.
Substitute Your Shower Towel
 Tired of wrapping around your shower towel? Wearing a bathrobe instead is not only easier, but it's more comfortable and stylish to wear around the house. You may be rushing downstairs to prepare some breakfast for the kids, for example.
Stress or no stress, look like you have it all together with a Boca Terry bathrobe. It's easier to walk outside for a bit to take out the trash or walk your dog, while looking trendy. Just pair the bathrobe with slippers and wrap your wet hair with a smaller towel or a headband to keep your hair off your face, and you're all set.
Take on the bathroom or kitchen chores with Boca Terry's velour or basic waffle headband matched with the Organic Classic Shawl Collar bathrobe. The blend of matching a hair accessory to your bathrobe will exude a similar impression of being fully dressed in a runway-inspired look.
Stylize Your Spa Attire
You can easily go for a massage or scrub at the spa in loose-fitting clothing, or perhaps you're the spa owner yourself and would like to be known for your super trendy spa. Whatever the case, bathrobes at the spa are essential for covering up and relaxing.
As a spa owner or visitor, the best way to stand out as being the most fashionable is by getting your bathrobes personalized. Spa owners can either order custom designs or embroidered bathrobes in bulk.
If you're a visitor, you can just have one with your initials embroidered on the chest area to keep track of your bathrobe and embellish its design.With Boca Terry, you can add custom embroidery to your own bathrobe with an additional cost of just $9 upon placing your order.
Wear it over Your Party Outfit
It's never a fun ordeal to get your outfit dirty before heading out for a formal event or dinner. Getting the slightest stain—whether it's from a drink of coffee or from your liquid foundation after applying makeup—can be a pain and threaten your fashion statement.
Rather than wearing a replacement outfit to get ready, which will cause you waste more time changing into your other outfit, wearing a bathrobe will give you more time to get everything done. You can properly finish styling your hair or accessorizing, shaving, and even ironing your clothes to look as fashionable as possible. Opt for Boca Terry's Organic lightweight waffle and be stylish while saving the environment.
Boca Terry Appreciates Fashion
To be fashionable, you don't have to be overly daring or disregard your comfort. You can have the best of all worlds by wearing a classily adaptable bathrobe from Boca Terry.
Thanks to our years of expertise in the manufacturing business, Boca Terry's bathrobes are made of top-notch fabrics and flaunt uniquely chic designs. Contact Boca Terry today to choose a fashionable bathrobe that's most fitting to your taste and style.
Share this item with friends