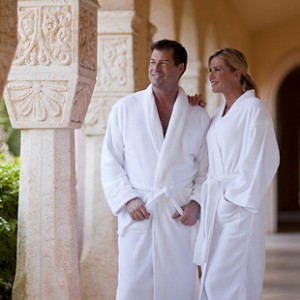 Who doesn't love a good robe? When the going gets tough, bathrobes are the perfect comforter; when work is extremely busy, bathrobes are there to soothe; when you just want to sit out near the pool bar, bathrobes are on your side. Don't pick just any bathrobe to wear during the hot summer months—find out Boca Terry's tips for picking the perfect one to wear in warmer climates!
Pay Attention to Weight (But, Don't Be Fooled)
While many buyers consider heavy robes to be higher quality than their lighter counterparts, this is a common misconception. Of course, the weight of an item can be a good sign of the workmanship and fabric quality, but weight alone does not fully dictate a product's value and quality. Don't be fooled into thinking that lighter products are always made with less care and precision. Our tip: stick with Boca Terry and overall product quality will not be a concern, regardless of product weight. We put the same amount of care into each item.
Warm Weather Wear
Heavy bathrobes are perfect for winter getaways, but don't order heavyweight robes for warm climates. When you decide to purchase robes to be worn in a hot haven, think breezy, cool, and light—this is the perfect combination for your climate.
Choose a Fabric
Fabric plays an important role in how hot or cool a piece of clothing will feel to the wearer. Terrycloth is a popular fabric made from cotton; typically, it is thick, which promotes absorbency. Terrycloth has a base layer of fabric, to which several loops are attached. The hoops of thread help to collect water, making this fabric extremely good at drying users off.
Waffle weave fabrics, on the other hand, are much lighter. Because they are not created with absorbency as the most important factor, waffle weave fabric is woven into a single layer; this eliminates the bulk and weight associated with some terry cloth items, and allows waffle weave products to be much lighter.
Decide on Material
Material differs from fabric choice; the materials used to construct a bathrobe are crucial when it comes to picking the right product. If you live in the Caribbean, in the middle of Arizona, near the Equator, or in any other hot climate, opt for more breathable materials—you can thank us later. Synthetic materials tend to be moisture-wicking, and draw sweat or other moisture away from the body. Synthetics make it easy to create very light, airy fabric, such as polyester or modal.
On the other hand, although cotton can often feel somewhat heavy in the heat, it is very absorbent, making it another great pick for hotter climates.
Consider Absorbency
Why is absorbency so important? Think of this: warmer climates often offer a variety of outdoor, water-themed activities. Robes constructed from 100% combed cotton are much more absorbent than items made of other materials. This makes cotton products the perfect pick to step into after a long shower, when hopping out of the pool, or while getting out of the ocean.
Plus, cotton robes help make your beach bag a lot lighter; they are a cover-up and towel all at once! A great option for hotels and resorts that are low on towels, a robe is a great alternative to offer guests.
Cut and Style
A robe's cut and style should vary, depending which climate you are in. Some argue that a long, loose-fitting robe is a good choice for very hot climates, as it protects the skin from harmful UV rays and keeps the hot air out—just picture the clothing sported by the locals of the Middle East. Though, others argue that a shorter robe allows the breeze to cool off one's legs. As a purchasing manager, giving your guests options is a positive way to ensure their happiness.
Boca Terry's Picks
Based on the above descriptions, Boca Terry offers several well-crafted products that fit the bill. The following are some of our best bathrobes for warmer climates:
Basic Kimono Bathrobe
This kimono-style robe is an excellent choice for a hot environment. It is shorter than several of our robes, enabling the wearers to experience the cooling sensation of a breeze across their legs. Made from 100% combed cotton terrycloth, your guests will find this simple, high-quality robe useful and easy to utilize. It comes available in one size fits all, XXL, and 4XL, ensuring that every guest has access to a loose-fitting option that will keep them cool.
Why We Suggest It: This robe is short, absorbent, and airy.
Kimono Waffles Bathrobe
This robe is similar to the aforementioned robe, in ways. Made from 100% combed cotton, the waffle pattern makes this robe extremely lightweight and breathable. Several pattern options are available to choose from, depending on your personal taste, the atmosphere of your establishment, and what you feel your visitors would prefer. Available in one size fits all, XXL, and 4XL, there is surely an option for everyone! Don't forget, there is optional color piping available that will enhance this item's elegance.
Why We Suggest It: This robe is short, breathable, and very lightweight.
Shawl Waffles Bathrobe
Made from lightweight, waffle-patterned fabric this robe's longer length protects a larger portion of your guests' skin from harmful, strong UV rays. Crafted from an absorbent cotton and moisture-wicking polyester blend shell, this item is lined with soft French terry, for ultimate relaxation. The roll-up collar and cuffs are cozy, but not overbearing. Best of all, the optional color piping makes this high-class robe even more beautiful! This option comes in one size fits all and XXL, meaning that guests of all shapes and sizes will appreciate this robe!
Why We Suggest It: This robe helps to protect upper legs from sunburn; it is also absorbent, airy, and moisture-wicking.
Tips from a Trusted Name
No one ever said choosing a robe was easy; that's why Boca Terry is here to help! If you have any questions, if you need information regarding wholesale pricing, or if you are ready to order, contact the staff at Boca Terry, now!
Share this item with friends