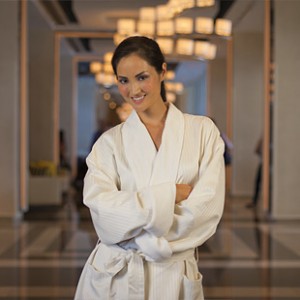 When choosing gifts for friends, people often come to a screeching halt. They've already bought the person gift cards, lotto scratch off tickets, bottles of wine, cooking supplies and a whole array of items tailored to the individual's interests. Suddenly though, they realize they've never purchased a bathrobe for the intended recipient.
Now the juices start to turn, and they begin thinking about that perfect bathrobe. Before purchasing such a gift, there are some considerations that the giver must ponder.
The Right Fit
First of all, they want to think if the person is even comfortable in a bathrobe. For example, some individuals might be very self-conscious and prepare to just change in the bathroom. While some people may think that these people wouldn't want a bathrobe, the robe chosen doesn't have to be for after-shower use, but something cozy that they can throw on over their pajamas and lounge around in.
Most individuals love a warm robe after a shower on a cold day, so the next step is to select the right size. Boca Terry offers a range of sizes designed to fit so many different body types. When buyers aren't sure of their friend's exact measurements, they should at least try to find out the individual's regular clothes size.
Selecting the Best Material
Aside from keeping people warm after a shower, bathrobes are also designed to provide comfort at any time of the day. Therefore, looking into the different materials available is another important part of the process. Terry cloth is one option that buyers could consider.
Before buying the robe, they can feel it. They may even want to try it on to fully test out the comfort. Furthermore, they should research the material to make sure it has staying power even after it has been washed a few times.
Colors and Monograms
Personalized gifts from Boca Terry are quite popular. Having a family member or friend's initials monogrammed onto the robe is a way to show the individual that the robe was truly picked out with them in mind. Buyers can even purchase matching monogrammed robes for a husband and wife or for a group of girls heading out on a vacation together.
It's also important to select a color that really matches the recipient's style. One idea is to buy the robe so that it matches the bathroom, and it will go well when it's hanging up on a hook. Additionally, people can also select a bathrobe that is in the recipient's color for a truly personal match.
When the time comes to purchase excellent bathrobe gifts, buyers should consult with a professional: Boca Terry. In addition to selling beautiful bathrobes, Boca Terry is also a premiere seller of other luxury items for the bath or spa. A visit to this shop's website can set the sophisticated spa item and comfort lover up for life. To start escaping into a spa paradise today, visit http://50.97.39.122/~bocaterry/ or call 954-312-4410 or the toll free number at 877-421-6001 extension 210. It's also possible to send a toll free fax to this premiere company at 866-530-9743. Don't delay; get optimal comfort today.
Share this item with friends