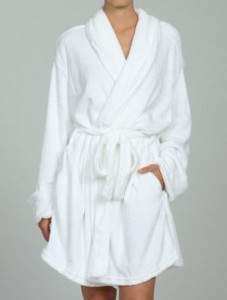 How to Find the Right Bathrobe
When individuals slip into their bathrobes, they should instantly feel warm and happy. This is why the bathrobe is a staple in hotels, health clubs, spas and retirement homes. It's a no-hassle piece of clothing that is designed to offer ultimate comfort. However, individuals who do not have the right bathrobes don't get that wonderful, comfortable sensation.
Choosing the Right Bathrobe for Hotels
From short, hooded, terrycloth bathrobes, to full-length, velour robes, the bathrobe comes in a number of styles. However, not all are appropriate for the hotel guest. Towel-style robes (also known as spa wraps) and hooded robes are better suited for the spa. On the other hand, kimono style and traditional bathrobes make excellent hotel room components. Bathrobe boutique Boca Terry offers a silk, pink robe along with the full-length, classic microterry selection that work well for hotel guests. Of course, hotel sales members may wish to ask their guests to indicate a bathrobe choice so they place the right robes in the right rooms.
Choosing the Right Bathrobe for Spas
Because people go to spas to indulge themselves, spa owners must select bathrobes that offer ultimate comfort and style. The satin stripe and checkered bathrobes by Boca Terry are two excellent choices for the spa owner. However, spa owners have to carefully choose among bathrobe materials, remembering that bathrobes play a functional as well as an aesthetic role in the spa. Sometimes, bathrobes must be used alongside towels to help spa goers dry off, or they may be used to help clients cover up between beauty treatments.
Choosing the Right Bathrobe for Healthcare Facilities
Anyone who has ever had to spend more than a couple of minutes in a hospital gown knows that the bathrobe is a vital part of most health care organizations. In choosing the right bathrobe for the healthcare industry, individuals must remember that this is where function counts a great deal and beauty doesn't play a role. Bathrobes should be used to offer patients warmth and comfort. Boca Terry has a large selection of multi-purpose bathrobes that can easily be used in the healthcare industry.
Everything sends a message, from clothes to cars. Interestingly, bathrobes send a message too. It might sound silly, but choosing the wrong bathrobe can tell customers or patrons, "I don't care about you." If an elderly woman found a meager, short, satin bathrobe on the back of her hospital room door, she would be offended, and rightly so. It is clear that the administration was not considering her needs when providing that type of bathrobe. This is why business owners, administrators and buyers must be careful to select the right robe.
Boca Terry has the right robe for every purpose. The company's large selection of bathrobes in all styles and materials makes it the easiest and best place to shop for bathrobes. Bulk pricing and easy shipping are solutions to the needs of hotels, spas, and healthcare institutions. Individuals can learn more about Boca Terry here. They can also reach Boca Terry locally at 954.312.4410 or send a toll-free call or fax to 877.421.6001 x210 or 866.530.9743.
Share this item with friends