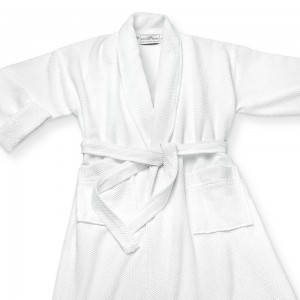 After a day's worth of washing and drying laundry, folding a huge pile of clothing is probably the last thing you want to do. Folding can be incredibly frustrating, especially with particular laundry items; attempting to fold a robe can be a challenging experience.
Boca Terry's Top Tips
That's why we are here to help! As robe experts, we know the best ways to keep your robe perfectly folded for storing and fresh for the next use! Say goodbye to difficult days of folding laundry with the following tips:
Simple Folding for Anyone
This is a foolproof way to attain a wrinkle-free, folded robe in six easy steps.
Remove the robe's belt and set it aside.
Lay your robe on a flat surface, with the front facing upwards. Stand at the bottom edge of the robe.
Fold one sleeve flat across the chest area of your robe, horizontally. Fold the next one in the same manner, so that it overlaps the first arm.
If applicable, tuck the robe's hood into itself.
Begin rolling the robe toward you, starting with the tucked hood or the collar. Roll your robe until you reach the end.
Once your robe is rolled, wrap the belt around it and tie it in place. This will keep your robe from unfolding during storage. For an even more presentable robe, tie the belt into a pretty bow!
For a visual tutorial on how to impress your guests with an even more elaborate folding technique, see this helpful how-to video!
Share this item with friends