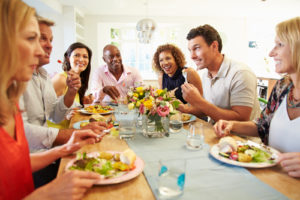 Are you planning on hosting a dinner party any time soon? If you are, then start off with the goal to make everyone feel like they're right at home. To begin with, you want to be able to keep your guests entertained to the point where they wouldn't want to leave or get distracted with their phones.
Setting the Ambience
Start with having your guests feel as comfortable as possible by assuring that every room of the house is clean—even the ones you don't foresee your guests visiting. Have an aromatic atmosphere matched with good music and a cozy décor theme.
You want to create a welcoming environment for your guests, namely, an informal one. You should base the setting on the overall theme of your party. If you want to have a more formal dinner, for instance, then you should let guests know beforehand, as no one should feel like they're underdressed or overdressed.
You should also make certain amenities easily accessible to your guests. For example, having a small bar station with all of the cups available or enough plates and eating utensils around will help guests feel more relaxed.
Spoiling Your Guests
When planning your menu, you want to make sure that you can accommodate to different tastes, so be sure to have an indulgent variety. For example, have vegetarian dishes as well as sugar-free desserts ready for those who prefer such meals.
Prepare dishes ahead of time so guests won't have to wait a long time before eating. Getting a proper headcount of guests beforehand will not only help with preparing enough food, but it'll also allow for making the right seating arrangements to accommodate visitors.
You can pamper your guests by doing things like offering to take their coats or bags upon their arrival, as well as offering them drinks and appetizers. Guests shouldn't feel like they have to help with anything. If they do offer to do so, you should kindly decline and make sure they're just enjoying the party.
Always ensure that no food or beverages are ever in shortage. Refill the ice bucket and cooler and open a new bottle of wine before guests can notice anything running low. Always have extra dishes around for nibbling.
Kick back and Enjoy the Night!
Guests should never feel like they're being rushed to leave. Let everyone feel like it's still early after dinner. Leave the dishes for the next morning and just relax and have fun with your guests. Cheers!
Share this item with friends