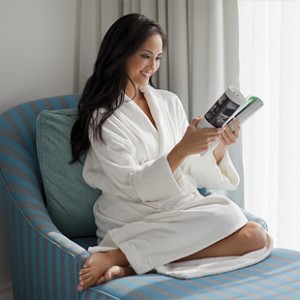 Think about the last time you went to a luxurious hotel. After exploring the room, you likely popped your head in the closet and found a white, soft bathrobe! When you wrapped the warm, cozy robe around your shoulders, you were probably grateful to the hotel for providing it during your stay! Well, not only can you thank the hotel for this comfortable amenity, but you can also thank the purchasing manager for their good eye! Purchasing managers are significant when companies need to buy a wholesale product from suppliers. They are in charge of finding and ordering products for hotels, spas, cruises, and more.
What Will Wow?
Purchasing managers have plenty of resources at their disposal when looking to buy a wholesale product. To really stand out, suppliers must be able to pinpoint features of their product that are beneficial to the buyer's company, and they need to reveal what sets their brand apart. Purchasing managers represent a company; therefore a great deal of weight is on their shoulders to find the best product to emphasize their brand. Suppliers must be sure to have all of their cards in the right place to impress a tough buyer!
Play Up Your Company's High Points
For example, we understand that the overall design and material-choice can make or break a bathrobe's comfort for the user. Not only do we offer an assortment of fabric choices, but we also provide a variety of styles to suit every customer (and purchasing manager's) needs! We believe our longstanding relationships with fabric suppliers enable Boca Terry to continue to acquire the best quality product and well executed production in the world at competitive pricing.
Variety
A wide range of products is sure to catch an important purchasing manager's eye. Take a look at our choices: robes, slippers, spa accessories, and lounge chair covers. Giving a potential client options means that they are more likely to find something they are in need of! To emphasize the great detail of each item we offer, let's take a look at one item, our basic kimono bathrobe.
Basic Kimono Bathrobe
We ensure that various size options are available with this robe. Not only do we offer "one size fits all," but we go beyond that, just in case one size doesn't fit all of your guests. While many companies would have stopped short, we designed our basic kimono to be available in XXL and 4XL, to ensure that everyone's needs are met! Not only do we give a wide range of sizes, but also fabrics! Purchasing managers looking for terry bathrobes or velour bathrobes will be happy to know that this robe comes in both options! Our robe is also available in different weights! Perhaps a purchasing manager works for a five star luxury brand and they are searching for the best of the best! In that case, they can purchase the basic kimono robe made with our heaviest material, 16 ounces. If a purchasing manager is looking for a great, comfortable product, but the company has given them a lower budget, they should know that we also offer the basic kimono in 12 ounces and 14 ounces!
Going Green
More and more companies are joining the green movement. Suppliers need to keep in touch with growing trends, and provide products that these brands need! Do you own an environmentally friendly company that is looking to supply guests with green amenities? Our basic kimono is also available in organic cotton! In fact, we have 3 styles of organic cotton bathrobes available: the aforementioned organic basic kimono, the organic classic shawl collar, and the organic lightweight waffle! It is evident that even purchasing managers representing natural, environmental companies will find something to fit their needs.
Great Products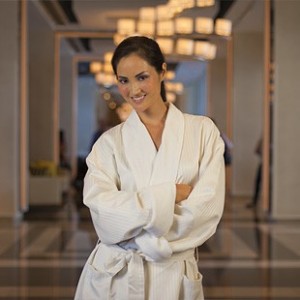 Since our bathrobes come in many styles, the number of styles is constantly changing. Our products range from cozy and comfortable to elegant and deluxe (such as our gorgeous satin stripe bathrobe that is lined with poly soft French terry knit). However, a great inventory is not the only selling point for buyers. Companies must be able to explain how a product can become beneficial to the buyer's business. Find out what the company needs, and sell to them based on this information. They are stocked to the ceiling with robes? Well, how about something to protect your new lounge chairs from fading, from tanning oils, dirt, and sweat? Keep those chairs out of direct contact with grime using our lounge chair covers! Unlike many of our competitors on the wholesale market, our covers are available with the option of a fitted hood or an elastic hood.  This allows our covers to hug a wide variety of chairs, likely including yours!
Knowing Your Product
In order to impress a purchasing manager, a company needs to obtain and display thorough knowledge of their product. We take full ownership of the design and manufacturing of each of our wholesale bathrobe and spa accessory products. Because we design every item and have direct relationships with the manufacturers, we are able to oversee each item from start to finish.
Talk Money
Purchasing managers have one main goal in mind. They desire to find the highest quality product at the best price available. Thankfully, we are able to provide this to buyers because our partnership with the manufacturers means that we cut out the middle man. This allows us to produce the most cost-efficient products to our ability. Because we source products from all over the world, we are able to come up with the quality standards and competitive pricing that are essential in today's economy.
Shipping in a Timely Manner
Once purchasing managers know that you offer something they are interested in, they need to know how quickly these items will arrive at their front door! Brands do not have time to waste when it comes to products they need. Because we have three great locations from which we ship, South Florida, Los Angeles, and Hong Kong, this ensures that companies receive their items quickly and efficiently around the world.
Boca Terry
If all of these astounding features and details don't impress a purchasing manager, we don't know what will! We take our product very seriously, and so should they! For more details about our company, read our About Us webpage! If we have impressed you and you are interested our wholesale items, contact us today!
Share this item with friends