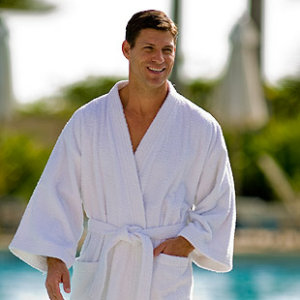 Just because you have made a pact between yourself and the planet does not mean you should skimp on the amenities and services offered to each of your guests! Want to know the ways to truly impress at your environmentally conscious hotel? Then, you've come to the right place.
Design, Develop, and Manage an In-House Eco Spa
As your guests enjoy the vacation of a lifetime, you likely want to do everything in your ability to ensure that their experience is out of this world. Pamper each of your guests by offering the option to schedule natural, eco-friendly spa services.
From bentonite clay masks to saunas; and from steam baths to soothing massages, your guests will never feel more relaxed than when in your on-location, environmentally friendly spa.
In order to ensure guests' optimal comfort and relaxation, stock up on only the finest spa accessories. Boca Terry's luxury spa products are affordable — but don't let that fool you; they are the top of the line.
Allow your guests to wrap up in a cozy, high quality, combed cotton spa wrap before lying across a soft and soothing waffle blanket. Our spa wraps are available up to 4XL, so you can promise each and every guest the perfect size to meet their needs and comfort level. Not only that, but our waffle blankets are available in twin, full, and king sizes, ensuring that nearly every spa worker will find a use for them!
Before a facial, offer your clients the option to pull their tresses from their face with a spa headband, made from your choice of velour, waffle, or microfiber fabric! While you're at it, suit up your spa with other outstanding Boca Terry items, such as soft lounge chair covers, exquisite towels, and cozy slippers!
Certified Organic Bathrobes
Because we understand the importance of providing guests with truly sustainable amenities, we offer bathrobes crafted from 100% certified organic combed cotton. These robes are available in basic kimono style, organic classic shawl collar, or organic lightweight waffle. Stock each hotel room with these organic cotton robes, and impress your guests from the moment they walk in!
Not only are you providing warmth and comfort, but also the peace of mind in knowing that they chose the right green hotel: one that truly cares to make a difference.
Organic Basic Kimono: Crafted from 100% certified organic cotton velour or terry, this robe has multi-needle stitching around the front pockets and cuffs, ensuring that it is high quality and long lasting.
Organic Classic Shawl Collar: Made with 100% certified organic cotton velour or terry fabric, this robe features generous pockets, a cozy roll up collar and cuffs, and double belt loops for adjustable height.
Organic Lightweight Waffles: Designed with comfort in mind, this lightweight robe is made from 100% certified organic cotton, making it a great choice for your eco friendly hotel.
These robes are an excellent option for any green hotels that want to make their mark on the environment. Learn more about the benefits of organic cotton, here!
We Will Work with You
We are committed to the happiness and success of our customers and clients. That means that, if you are in need of an environmentally friendly option for your hotel, spa, nursing home, cruise ship, or whatever business you may own, we will do everything we can to offer you what you need—even if we do not already have a solution in place!
For example, when an environmentally conscious hotel came to us asking for an organic bathrobe, towel, and spa product solution, we knew that we had some thinking and planning to do. While it would have been easy to simply offer our organic robes, we decided to take it a step further:
We had noticed increases in hourly labor wages across the globe and anticipated soaring cotton prices that could potentially have a detrimental impact on clients. Because we care for each client, we decided it would be best to avoid this potential financial burden. We wanted to design their robe without utilizing organic cotton, and that's exactly what we did
We worked alongside the hotel to research and design a material that they would be proud to use in their green facility. During the process, we discovered that the products needed for these robes and towels already existed, but they just needed to be composed in a different way.
After everything was said and done, we developed a Microterry Bathrobe that is similar to our conventional robe, but it is made solely from recycled plastic bottles! Now the hotel's recycled micro-terry bathrobes are branded with our green recycle symbol tag, indicating that the hotel's bathrobes are genuinely environmentally friendly. Not only did we help to hotel promote their vision, but also we enabled them to stay true to their goal.
Are you ready to impress you guests with the same commitment to environmentally conscious practices? Don't be shy; reach out to Boca Terry!
Boca Terry: Bettering the Planet
As you can see, we are committed to helping you serve our planet, while impressing your guests with your promise of being green! If you are interested in ordering our products, if you need information regarding wholesale prices, or if you simply want to learn more about how you can impact our planet with a customized green solution, contact us today!
Share this item with friends