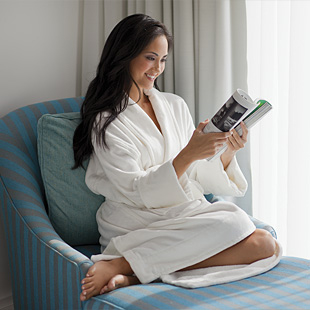 In today's world, change is the norm.  Things that were considered tried and true are no longer:  think the rotary phone versus the iPhone, think SUV versus Prius, think Yuppies versus today's environmentalists, think hospitals serving gourmet food 24/7, think hospitals offering patients a plush robe instead of flimsy traditional hospital attire…
The health care industry is most certainly poised for change.  But becoming ill and having to spend time in a hospital facility is not on the top of anyone's to-do list.  The fact is, hospitals are changing to support the evolving needs of today's patients. And they are doing so via a transparent survey sponsored by the United States Department of Health and Human Services to help consumers make important choices about their hospital care and to help hospitals improve the care they provide.
WHAT IS HCAHPS?
Not only are hospitals changing but they have national standards to live up to.  The intent of  HCAHPS (Hospital Consumer Assessment of Health Plans Survey ) initiative is to provide a standardized survey instrument and data collection methodology for measuring patients' perspectives on hospital care. While many hospitals have collected information on patient satisfaction, prior to HCAHPS there was no national standard for collecting or publicly reporting patients' perspectives of care information that would enable valid comparisons to be made across all hospitals.
In order to make "apples to apples" comparisons to support consumer choice, it was necessary to introduce a standard measurement approach: the HCAHPS survey, which is also known as the CAHPS® Hospital Survey, or Hospital CAHPS.
HCAHPS is a core set of questions that can be combined with a broader, customized set of hospital-specific items. HCAHPS survey items complement the data hospitals currently collect to support improvements in internal customer services and quality related activities.
Three broad goals have shaped the HCAHPS survey:
1) First, the survey is designed to produce comparable data on the patient's perspective on care that allows objective and meaningful comparisons between hospitals on domains that are important to consumers.
2) Second, public reporting of the survey results is designed to create incentives for hospitals to improve their quality of care.
3) Third, public reporting will serve to enhance public accountability in health care by increasing the transparency of the quality of hospital care provided in return for the public investment.
With these goals in mind, the HCAHPS project has taken substantial steps to assure that the survey is credible, useful, and practical. This methodology and the information it generates are available to the public.
The HCAHPS survey contains 18 patient perspectives on care and patient rating items that encompass eight key topics: communication with doctors, communication with nurses, responsiveness of hospital staff, pain management, communication about medicines, discharge information, cleanliness of the hospital environment, and quietness of the hospital environment. The survey also includes four screener questions and five demographic items, which are used for adjusting the mix of patients across hospitals and for analytical purposes. The survey is 27 questions in length.
Survey questions include everything from nurse's and doctor's listening skills to their response time, to the hospital environment to your after-care plan to rating the hospital to your recommendation of the hospital to your friends and family.
THE IMPORTANCE OF THE SCORE
Hospitals are competing like big businesses to get your health care dollars.  They are branding and marketing themselves to set themselves apart in the health care industry.
One of the ways hospitals are competing is by achieving high scores on the HCAHPS surveys.  They know potential patients can review these scores on line and they strive to achieve excellent scores.
A category that is reviewed by potential patients is Hospital Amenities.  What is the hospital doing to allow a patient to be more comfortable, have the dignity they deserve while healing and recovering?   Hospitals are recognizing the need to change, to become more 'personable' and less clinical,  and in some cases, more 'spa like' to ensure the care and experience of the patient is with dignity, respect and comfort.
A significant change in scores for the better is being noticed by those hospitals that understand their bottom line can have a more positive result when they offer patients certain amenities that create a sense of comfort–the main one being robes instead of skimpy traditional hospital wear.
COMFORTING AND HEALING
It makes sense that when one feels comfort it increases our sense of wellness.  Imagine a hospital that considered the entire patient experience:  supplying not just typical hospital amenities, but amenities that made patients feel less 'ill' and more 'wellness'?
The Pavillion at Penn Medicine in Philadelphia, PA offers their patients soothing earth tone furnishings, a concierge to assist with personal services, and amenities such as fine linens, a plush robe and boutique toiletries.  ProHealth Care and Hospice in Waukesha WI offers blanket warmers and robes  amongst their amenities.  The Suites at Saint Mary's Hospital, affiliated with the Mayo Clinic in Rochester MN,  not only offer plush terry robes and slippers, but fine linens and English toiletries as well.
These world class health facilities have recognized the need to incorporate a higher level of amenities and have distinguished themselves in the health care industry.
Boca Terry understand that it's the little things that make the greatest amount of difference and have been working with hospitals, surgeons and medical spas  as well as senior and retirement living homes to help make a difference in the lives of the patients they touch.
THE FUTURE OF HOSPITAL AMENITIES
The HCAHPS scores are only going to become more and more important in the big-business of health care.  We know that more and more material managers are feeling that high level amenities such as plush robes will help improve their scores by improving  the patient experience by adding comfort as well as dignity to the overall experience.
With years of expertise and experience manufacturing textile products for a variety of professional industries such as hospitals,  and the ability to respond quickly to growing and changing client needs is what makes Boca Terry the ideal robe company of choice to support discriminating hospitals who strive for high scores in their HCAHPS surveys.
Contact Boca Terry today to elevate your patient's experience and increase your HCAHPS scores.
Share this item with friends