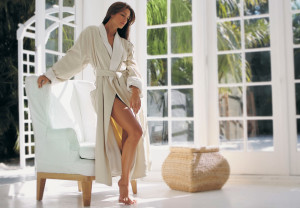 As that long-awaited day of pure relaxation makes its mark on your guests' calendar, your mind is set on how to make their visit to your spa extra pleasant. It's not just about maintaining your reputation as being a top-rated spa that visitors resort to as the ultimate spot to purify their body and soul; it's about making that experience memorable enough for them to come back.
So what's the best way to do that? Separate yourself from the rest. Make sure your spa has all the essentials and more. The following are a few things to keep in mind whether you're opening a new spa or already own a tranquil oasis.
Check-in Etiquette
Brief Guests About Your Policies. Before your guests arrive on the day of their appointment, they should be informed of your policies regarding accepted payment methods, cancellations, and rescheduling. For instance, if you charge a fee for cancellation or require your guests to sign an agreement form, this would be a good time to let them know. In addition, you should make sure to ask if they have any special requests.
Prepare a Visitor Profile Form. If you're welcoming a new guest, when they call to make an appointment, be sure to advise them to try to show up at least a half an hour before their appointment. This will allow them time to complete a profile form and be able to rest before starting their treatment.
The form should address everything from a guest's age to significant elements of their medical history that can affect the spa treatment they're getting. Once you're well acquainted with your visitor's background, you can better attend to their needs, and ultimately make their experience as restful as possible.
Give a Proper Welcome. As soon as a guest arrives at your spa, they should be able to instantly sense soothing aromas and get immersed into a serene ambience. Offer them a warm or cool beverage (depending on their preference). Your guest could be in the mood for some bubbly or for a detoxifying herbal tea, so make sure to have a varied selection of champagne, tea, juice, etc., on stock. You may even offer fruits and nuts as sides.
Then, offer your guest the option to tour your spa facilities. If they have extra time left before starting their treatment, they can enjoy their beverage in the wait room and a set of current magazines you should have available.
A Peaceful Atmosphere
Security. The last thing a guest wants to do upon their arrival at the spa is worry about their belongings while they're getting a massage or any other treatment done. You should have lockers available for your visitors to store their belongings in.
Cleanliness. Moreover, make sure to conduct routine maintenance checks to ascertain that all parts of your facility are functional and most importantly, squeaky-clean! All of your spa's divisions should be sanitary and organized with items that are easily accessible by all visitors.
Design Factors. Also remember, less is more. The less cluttered your rooms are, the more appealing and relaxing they will be for your guests' stay. Look into décor elements such as:
Neutral color schemes for your furniture and walls
Proper lighting (lamp designs, dimness, aromatherapy candles)
Aromatic plants

Add to your spa's smooth aesthetic and functionality with Boca Terry's Waffle Blanket. Available in Full, Twin, and King variations, these soft blankets will make all the difference when your visitors lie down on their plush spa bed.
Relaxation Rules. For the sake of maintaining the aura of harmony for all spa guests, you should prohibit the use of cell phones and pagers, smoking, and speaking loudly. You can also classify your spa as an "adult-only" zone. Or, you can help further cater to your guests' needs and save them the hassle of finding a babysitter. Offer special activities or a distinct area for children to play/rest in, while your guests enjoy their spa treatment.
Amenities. Providing a variety of spa amenities is always a plus. Depending on location, the most sought-after spas generally have a pool, sauna, Jacuzzi, and steam room. You can even include fitness gear and classes, such as yoga. If you don't have one already, consider including a "spa café," too, or you can recommend a few nearby restaurants for guests that are unfamiliar with your area.
Silky Smooth Spa Attire
Having the ideal spa environment doesn't just stop at the rules you implement or the different amenities a guest has access to. A stress-free spa wouldn't be complete without ultra snug bathrobes and practical spa accessories. Boca Terry's wide selection makes for the ultimate comfort zone.
If you want your guests to enjoy the warm hug of 100% combed cotton velour or terry cloth, you can opt for Boca Terry's Basic Kimono bathrobe or the Classic Shawl Collar bathrobe. Give your guests a warm and soft embrace while they're on their way to get a cleansing facial, hot stone massage, or revitalizing mud bath.
The following are some other luxurious Boca Terry bathrobes that can make your spa a lot cozier for your guests:
Micro Chamois bathrobe
Checkered bathrobe
Microterry bathrobe
Your guests can easily hang their bathrobes using the convenient hanger loop that comes on Boca Terry's bathrobes. Guests can also store their items in their bathrobes' generous pockets. If you own an eco-friendly, or welcome guests that prefer organic materials, you can turn to Boca Terry's assortment of organic bathrobes, too.
If you'd like to personalize Boca Terry bathrobe, you can customize your order to include embroidery of your spa's logo, emblem, or any other form of personalization. Don't hesitate to request a custom print, color(s), or design for your bathrobes.
Finalize the customary spa wardrobe with matching slippers. Choose among Boca Terry's variation of open and closed toe slippers that come with a skid-proof PVC sole. The extra foam lining offers additional comfort.
For extra relaxation, be sure to have headbands on-hand. When guests are getting a facial, facemask, or any other treatment, it's preferable to keep their hair off their face.
The Boca Terry Touch
Once your guests are ready to head home after a gratifying day, make sure to ask them about their experience so you can decipher areas of improvement. Offer visitors a small parting gift, like a pair of spa slippers or spa product samples from your personal line (if you have one).
If you would like to learn more about Boca Terry's products and how they can make your spa as comfortable as possible for guests, call us today. We know how important customer satisfaction is, and can help you offer the best quality to your clients so they can keep singing your spa's praises.
Share this item with friends