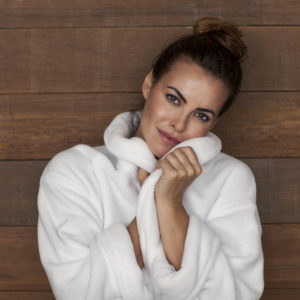 Appropriate measurements and choosing quality make all the difference
Sizing a bathrobe can be a bit challenging. Besides the fact that online ordering can feel pretty hit or miss on many retail or wholesale websites, bathrobes tend to be especially difficult because they are designed to have a looser fit than many other garments. But there are a few ways to figure out whether or not you've ordered the right-sized bathrobe or if an older robe is still the best fit.
Quality makes a difference
The first thing to do is to consider a price range. Not all bathrobes are created equally, and you want to make sure you buy the best one you're able to afford. Quality is incredibly important – a higher-quality robe is more likely to fit better, as it's been manufactured to meet sizing requirements and quality tests to ensure consistency between robes and charts.
Sizing charts are your best friend
On that note, a sizing chart is extremely helpful. Any time you're buying an item online, it's imperative that you access the sizing chart and take measurements on yourself or the person who will be wearing the item.
Here's a sizing pro tip: when taking measurements, you should measure the person three times. Then, take an average of the measurements to find your average and compare that number with the sizing chart. Then, choose the item that best matches the chart.
Remember, the one-size-fits-all option that many bathrobes are available in is an excellent choice for many people, but not all! Be sure to double check with the charts.
Consider the ideal bathrobe fit
When it comes to a bathrobe, keep in mind that it should be worn loosely. They serve three main purposes: to be absorbent, to cover up, and to be comfortable — and you don't want to skimp on two of those three uses by getting a robe that's too small.
The length of your bathrobe is another thing to consider. A top quality item should feature more than one belt loop height so that wearers of all heights have a better possibility of the belt cinching at his or her waistline, rather than too high or low.
No matter what size you're looking for, you're likely to find an ideal bathrobe size in Boca Terry's line. That's because we don't just offer one-size options — we also manufacture extended sizes in our top quality line, so you and everyone you know can enjoy the beauty and perfect fit of a great bathrobe.
Considering a new bathrobe? Check out our retail options here. Buying in bulk for your hotel or spa? Contact us today to talk about wholesale pricing and options.
Share this item with friends