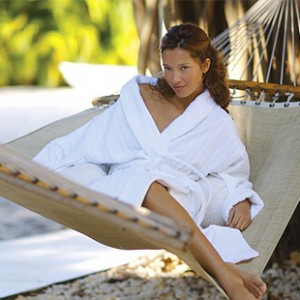 Velour is a material that feels very much like velvet, but it doesn't cost nearly as much. This is why many hotels and spas commonly provide velour robes. While velour robes are inexpensive, they are a little difficult to clean if you don't know what you are doing. Follow these directions, and you will know how to clean a velour robe.
Prepping the Robe
You must prep the robes before placing them in the washer. Start off by separating the robes from all other materials. Velour robes can get caught in other materials if they are washed together. If you ordered different colored robes, then you should also separate them by color to ensure there is no bleeding.
You then need to turn the robe inside out, and you must roll down the sleeves and undo any and all buttons. The belts should also be removed, and they should be placed in a nylon laundry bag. This ensures that the belts do not get tangled while being washed, and it keeps them from getting caught in the robes.
Set the Washer
Unless directed otherwise by the tag, velour robes should only be washed with cold water. It would also be a good idea to place the washer on a softer setting if one is available. Keep the robes loosely packed in the washer. Packing them too tightly may cause the washer to be inefficient.
Velour typically doesn't need that much detergent, and adding too much can actually hurt the fabric. It's best to distribute about half-a-cup of detergent in an entire load. If possible, you should also use softer detergents that don't have harsh chemicals to extend the life of the bathrobe.
Drying Velour
Remove the velour robes from the washer and gently shake them. This moves the velour around, and it will make it easier for the fabric to dry once you place it in the dryer. Placing the robes in the dryer without shaking them out can result in poor drying, and it might cause other problems with the fabric.
Place the robes and belts into the dryer and set it to tumble dry. Do not set it to any heat level because this can shrink the robes, and it might even burn the fabric if you set the heat very high. Remove the robes once they are finished and either fold them or place them on a hanger for later use.
Buy Bulk Velour Robes Today
People love velour robes. They feel great, they are inexpensive and they have a luxurious texture that most people can't stop touching. To offer your guests an unforgettable bath experience, offer freshly washed velour robes in your hotel bathrooms or at your spas.
Visit Boca Terry today at www.bocaterry.com to bulk order velour robes. You can also contact them at their direct line 954-312-4410, their toll-free line 1-877-421-6001 extension 210 or fax them at 1-866-530-9743. Also you can contact Boca Terry by mail. If you want the best velour robes for your customers, then order from Boca Terry today.
Share this item with friends