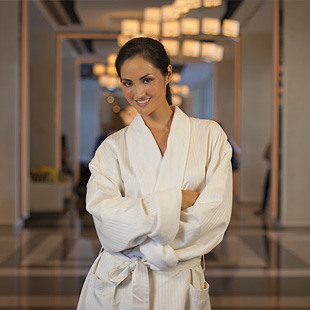 In general, guests arrive at a hotel with three things in mind: to relax, renew, and revive. They want to feel like they are in a world quite different from the everyday, and that is why they have chosen your establishment.
Leaving the Stress Behind
Guests want to shed their outer skins to become their best selves once again. What better way than to slip into a luxury bathrobe, which is the perfect metaphor for leaving stress behind?
Perfection in All the Details
As a hotel owner, manager, concierge, or any other member of the staff, you are dedicated to making sure that every gesture, every amenity is in service to the ultimate comfort of your guests. Treating each one like royalty is what sets your hotel apart from the rest, with perfection in all the details.
Improving the Guest Experience
Like you, Boca Terry is always looking to improve the guest experience through refining our products and services. With many years in the manufacturing and textile industries, our relationship with most of the top luxury hotels, spas, resorts, and bed and breakfasts around the world has enabled us to develop relationships built on trust and continuity.
Always Looking Well Dressed
Ordering from our extensive inventory ensures that your guests will receive the perfect experience when lounging in their room, poolside, or in the spa. We believe that there is no reason for your guests to look anything other than well dressed when draped with any one of our unique luxury bathrobes.
Taking Pride in Every Stitch
From design to manufacture, we take extreme pride in every stitch, every loop, and every piece of custom embroidery that is placed on our robes. With factories in China, India, Pakistan, Turkey, and Columbia, Boca Terry has full control of all areas of production, with no middleman to drive up our prices.
Meeting the Highest Industry Standard
Our mission to bring the best fabrics and styles to your guests is what inspires us to keep our costs competitively low. We believe that everyone deserves the utmost in luxury, and we take care that every piece that comes out of our factories meets the highest industry standard.
Durable and Made to Last
When it comes to washing and drying, this is one of the areas that is most sensitive when it comes to keeping fabrics looking as fresh as they did the very first day they arrived at your hotel. The materials we use for every one of our bathrobe styles are extraordinarily durable and made to last. We abide by the credo that a classic style endures, not just in terms of its design, but also in regard to its quality.
Customized Designs
Improving guest experience with luxury bathrobes is always enhanced by customized designs. When someone stays in your establishment, he or she should be proud to identify with your brand. What better way than to drape them in a bathrobe with your logo, emblem, or embroidered design as a way to say you are special enough to be a member of our unique hotel?
Our Creative Design Experts
At Boca Terry, we have talented, knowledgeable, and thoroughly creative design experts to help you create unique custom robes that define your hotel brand. Our professional consulting services will help you enhance your stature by creating a unique statement bathrobe ideal for every day use or for special occasions such as bridal parties, honeymoon stays, and the like.
Luxury Robes for Men, Women in Regular and Plus Sizes
Most of our robes are appropriate for both men and women, with an exception here and there when it comes to an exceptionally feminine design. We also are happy to fill plus size orders, as we know your guests come in a range of shapes and sizes. No matter how large the person, he or she will feel like a million dollars in a luxury robe created for aesthetics, comfort, and function.
A Generic Term for Exceptional Products
The Boca Terry signature is your guarantee that you are supplying the highest quality luxury bathrobes to your guests. We have, in fact, become almost a generic term for exceptional bathrobes, towels, and other accessories, gaining greater acknowledgment for our products all the time.
An Experience Like No Other
It is easy to tell the difference between our garments and those of our competition for their quality, design, and feel. You have only to drape one of our all-cotton or cotton blend terrycloth robes around you to sink into their warmth and softness, or to bask in the sensuality and cool silky feel of a robe in our Satin line to know what pure heaven is. No matter which styles you choose, your guests will immediately sense that they are having an experience like no other.
The Meaning of Luxury
The concept of luxury can mean many things to many people. Often it is thought of as "bling" where an item looks expensive through ostentation, shouting itself out to the rest of the world. At Boca Terry, our definition of luxury is more on the subtle side. We believe that luxury is something that is refined, elegant, and made for pleasure. It doesn't shout, but rather whispers. It is a private sensation, even while it is recognized by others. Our bathrobes are designed to minister to enjoyment, to deep sensual delight, to provoking a feeling that all is right with the world, even for just a little while.
The Meaning of Hospitality
Because our products are created for the hospitality industry, we are always paying homage to the concept of hospitality as well. This means a sense of generous welcoming to guests, knowing that they come to a hotel, resort, spa, or bed and breakfast hoping to be given the best treatment possible for the duration of their stay. What better way to do this than by providing this essential gesture through a luxury bathrobe that will come to represent all they could possibly hope for in their hotel experience?
Contact Us
For more information on our luxury bathrobes, please contact us through our online form.
Share this item with friends