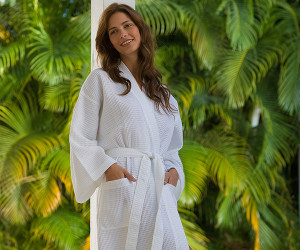 You may have heard that bathrobes are an excellent way to help soothe your patients and improve their experience. For example, bathrobes can go a long way toward your patients' overall comfort. Those thin hospital gowns are not always the most soothing piece of clothing—and your patients are in a vulnerable place. They need to be soothed with the comforts of home, and a bathrobe and a simple pair of slippers are a great start.
Furthermore, have you heard about the benefits of offering your patients organic cotton bathrobes? Boca Terry offers tips to improve your patient care—especially with organic cotton bathrobes. Keep reading for more details!
Organic hospital gowns can be pricey—and they are not always made with the same luxurious quality in mind.
Offer Your Patients Peace of Mind
Some of your patients are going to care about the environment. Showcasing your interest in protecting our planet is a simple way to appease some of your guests' fears and reassure them that their care is warranted and appreciated.
A Better Choice for Many Patients' Health
There are several factors related to why your patients might face skin sensitivities. It might be a factor of a chronic skin condition, such as psoriasis or eczema—or it might be related to an allergy to certain dyes, pesticides, or fertilizers used in the production of conventional cotton.
Well, the last thing your hospital wants is to cause a reaction in a patient who is already dealing with other physical or neurological difficulties! In fact, the whole idea behind your establishment is to help, not harm your patients, or otherwise worsen their condition! That's why you want to provide the best, least problem-causing garments.
Taking precautions and providing guests with organic bathrobes is never the wrong choice. For some patients, this could reduce or even eliminate their irritation. Please remember. We aren't doctors—you are—so we can't promise that it will help every patient with skin irritations, but you may find that making this change delivers the opportunity to help some. The caring choice of an organic bathrobe is just what some of your patients needed.
Hospital Hospitality
Sometimes, bathrobes aren't just for your patients. Do you ever see patients' loved ones staying with their friends or family overnight? You have the opportunity to offer robes to guests who are keeping a patient company. After all, your patients don't want to be alone. Why not offer an easier way for those guests to stay and feel comfortable?
Increased Affordability
Offering organic bathrobes is an affordable way to increase patient satisfaction and care. All Boca Terry products are luxury quality, manufactured with care.
We know that organic items often tend to cost more than their conventional counterparts. The good news is that Boca Terry products are manufactured with price in mind. We are proud to proclaim we are one of the most affordable brands producing wholesale luxury organic cotton bathrobes on the wholesale and retail market! Better yet, wholesale items are a great investment, because you save when you buy in bulk.
Manufacturing Made Better
In Boca Terry's manufacturing process, quality is never a question. Because we have our hands in each part of the manufacturing process—from design to construction—our organic bathrobes and other products are of excellent quality, made with care. This allows us to quality check throughout the entire process, ensuring that the organic bathrobes meet our standards each step of the way.
Extreme Comfort
The last thing your patients want is to be uncomfortable. You need to go out of your way to improve their comfort overall—so make sure their comfort is a top priority! Our bathrobes are soft, made from high quality, 100% combed cotton terry that is 100% certified organic. They are plush.
Improved Durability
Our bathrobes are high quality and will not fall apart. That means that your robes will remain plush and soft so that your patients will always feel comfortable.
Ready to Improve Your Patient Care? Get Started
If you are ready to make a difference in the lives of your patients suffering from allergies, sensitive skin or other ailments, it's time to invest in affordable, luxury quality organic bathrobes. If you have questions about wholesale pricing, or if you'd like to place a bulk order, contact us now!
Share this item with friends