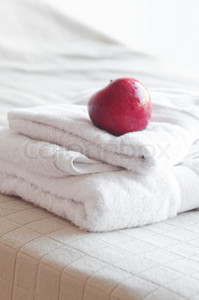 There is no situation that you can think of where a beautifully made garment will not make a person feel better, no matter what their condition. When draped in a luxury fabric designed with an eye to comfort and ease, any woman or man will automatically feel good about themselves, elevating their mood and view on life.
Lifting the Spirit
One of the greatest tributes to our Boca Terry merchandise has come from the health care industry. As hospitals today are paying more attention to patient comfort, both physically and psychologically, they are realizing that those dreaded tie-in-the-back disposable garments are no longer tenable. Coming from a more humane perspective, buyers are paying attention to higher end merchandise in order to give patients the sense of being in more of a spa atmosphere, thus lifting their spirits.
Raising Customer Expectation
The hospital industry is fast becoming as competitive as the hospitality business, with medical facilities vying for attention based not only on their healthcare, but in other ways as well. Things like valet parking, better food, beautiful views outside patient room windows, more hospitable common areas, and high-end toiletries are becoming the norm.
Raising the Bar
With Boca Terry's plush towels, robes, and slippers raising the bar in hospital settings, we are seeing an increase in popularity in the hospitals we supply. It is hard to describe the pride we feel when we hear reports on how grateful patients are to be in the presence of our luxury items. We feel it is a way of honoring each individual, letting them know that they are worthy of feeling beautiful, handsome, cherished, and honored when they are enveloped in exceptionally made fabrics.
Thinking of the Details
Many people who need an extended stay in a hospital bring their own robes as a defense against the dreaded tie-down version. When a Boca Terry robe is hanging in a room, its not difficult to imagine the sense of gratitude knowing that those operating the facility are thinking of every detail when it comes to service.
A Balm for the Psyche
It is common knowledge that a good robe is a metaphor for how we feel about and take care of ourselves. An impeccably sewn, beautifully designed bathrobe made of soft, caressing fabric is a balm for the psyche. Wrapped in a gorgeous Terrycloth, Waffle weave, or Satin Stripe model makes everyone look good, and when you look good, you feel good. What better way to improve hospital care than with a Boca Terry product?
The Final Emblem of Customer Care
Family owned and operated, Boca Terry is a company where everyone involved is intent on producing and manufacturing the best quality merchandise possible. With our experience and deep knowledge of textiles, from seed to final product, we are able to deliver products that satisfy the most exacting clients. Our five-star hotel and resort clients are well aware of our dedication to perfection, as are all of the spas, casinos, and special event planners that we supply. With some of the most highly respected hospitals getting on board, our merchandise is fast becoming the final emblem of customer care.
Our Impeccable Quality Control
Boca Terry has numerous factories placed all around the world, with an educated staff that has been trained to be aware of every aspect of quality control. This means that each product we produce must pass muster before being sent out to you. Every stitch, every seam, and every thread is evaluated for endurance, assuring that our customers receive merchandise that will pass the test of time. This is especially critical when it comes to the countless launderings our towels, robes, and slippers must go through within the hospitality and medical industries.
Caring About Your Bottom Line
We are also preoccupied with your bottom line. We know the expenses involved in running your facility, and for this reason we do everything possible to keep our prices low. Without a middleman, we are able to significantly reduce costs. All of our clients are consistently amazed that we can deliver such top-tier products without breaking the bank.
The Importance of Branding
Like our other clients, hospitals are becoming more cognizant of the importance of branding. In this regard, buyers are clamoring for our custom embroidery as a way to display their venue's logo on every piece ordered. With a stunning and perfectly created design that is constantly in view, you are reminding your clients of the comforting experience you offer. If you have an online or in-house boutique, you will give them the opportunity to take home items that they value. In this way, they will always remember you, recommending you to friends and family.
Defining Your Success
There is never a time when you can stop improving hospital care. There is always something else you can do to help people overcome their fears and feel more confident, no matter what their diagnosis. From a bouquet of flowers on every hospital room table to a package of organic, fragrant shampoo, it is the details that will set you apart from the rest. When your hospital staff is of exceptional quality and this is matched by a sensitivity to the little things that make people feel grateful for your attention, you are already defining your success.
Contact Us Today
For more information on how Boca Terry can help you improve hospital care through our stunning selection of luxury robes, towels, and slippers, please contact us today.
Share this item with friends