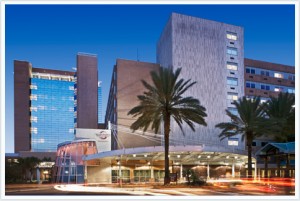 One of the most important tools to come out of the health care industry is the Hospital Consumer Assessment of Health Plans Survey initiative.  Known as HCAHPS, this standardized survey collects data that measures a patient's perspective on their hospital care and experience.
While many hospitals have collected information on patient satisfaction, prior to HCAHPS there was no national standard for collecting or publicly reporting patients' perspectives of the 'care' information that would enable valid comparisons to be made across all hospitals.
The HCAHPS initiative has impacted the health care industry, in particular hospitals in many ways. It has provided hospital decision makers data to make decisions that impact their ability to provide improved care for patients. And, since the survey is available on-line, it has given patients the ability to choose the right hospital for the care they need.
DATA RESULTS-HOSPITALITY AMENITIES ENHANCE SCORES
The HCAHPS survey is becoming a more and more important tool in the decision making process to improve not only patient care but the overall patient experience.
Having the appropriate data is pivotal. The founder of the Total Quality Management movement, Dr. W. Edward Deming, understood the importance of having relevant and specific data. He understood the importance of constantly improving the systems within a business by making decisions from the right data. He has been quoted as saying, "In God we trust – all others must use data".  In other words, decisions need to be made on facts, or data, not just on guess work or emotion.
With hospital management understanding the importance of achieving high scores on the HCAHPS survey, the strategy to achieve those high scores needs to be addressed.
Incorporating hospitality amenities like comforting robes, high quality towels, and related items are proving to be important elements to achieve higher scores.
HIGH SCORE STRATEGY
The HCAHPS isn't just about 'getting a good score' on a survey.  This initiative has far reaching implications in the respect that the data collected identifies which areas need improvement, and therefore where to focus attention and resources.  By improving patient care AND improving the overall patient experience/perception, the results not only affect the well-being of the patient, but improves the hospital bottom line as well.
Many hospitals have implemented a variety of practices and systems to improve their scores and thereby the patient's experience by including strong and multiple-point communication systems, patient education systems and protocols and follow up calls post discharge.
Although these are important aspects of improving HCAHPS scores, there are additional factors that affect the score in terms of perception of the patient, the key being the incorporation of better hospital amenities. When one thinks of being ill, one thinks about how one feels.  What is it about my experience in this hospital that makes me feel better?
HIGH TOUCH = HIGH SCORE
Patients respond to touch.  According to Dr. Tiffany Field, Director of The Touch Research Institute at the University of Miami Medical School, their research strives to better define touch as it promotes health and contributes to the treatment of disease.
Be it direct touch from a health care professional or the tactile sensation derived from towels or robes and other items that are close to one's body, our sense of touch constantly sends signals to our brains.
And the human body responds positively to touch sensations that make it feel good.
Boca Terry is a family owned and operated business dedicated to providing its customers with top quality bathrobes, towels and related products, as well as creating custom products that make one feel good. Whether it is enhancing the hospital or recovery experience, we are dedicated to making the best possible products and we have the capability to support this without sacrificing the budget.
IMPROVE PATIENT EXPERIENCE WITH ROBES –HCAHPS SCORES IMPROVE
In a presentation to the Patient-Centered Care CEO Summit in Chicago, IL, F. Nicholas Jacobs, President/CEO of Windber Medical Center, illustrated that a healing, comforting environment with items like bathrobes helped to improve the image of hospitals.
It is a fact that hospitals are becoming less clinical and evolving into environments that promote healing and wellness. The opportunities to enhance your hospital's HCAHPS scores through creating positive experiences and perceptions of your facility can be leveraged through Boca Terry.
All fabric utilized for Boca Terry bathrobes, towels and related products are woven at our factories, totally vertical from yarn purchase through weaving. From years of expertise in the manufacturing industry, Boca Terry has refined its manufacturing process down to a science with meticulous fabric research for quality and unique design for innovation and comfort.
Boca Terry's longstanding relationships with fabric suppliers enable us to continue to acquire the best quality product and well-executed production in the world at competitive pricing. We can enhance your HCAHPS scores, improve your patient experience and still maintain your budgetary parameters.
Our ability to make these guarantees is a direct result of our company's relationships directly with the factories, something that many of our competitors cannot or do not do.
PATIENT FOCUS
It is a fact that the HCAHPS survey is all about improving patient care in every aspect. Boca Terry is here to support your hospital in its quest for the best possible patient experience.
We are a family owned and operated business dedicated to providing top quality bathrobes, towels, slippers, and related products, as well as creating custom products such as developing an entire line of custom made bathrobes, slippers and towels which can be enhanced through incorporating your logo.
We are dedicated to making the best possible products and invite you to contact us and allow us the privilege of creating a complete program for your facility. We can be reached by phone at 877.421.6001 or through our online contact form.
Share this item with friends