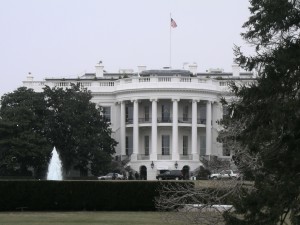 In case you didn't catch it this past January, it turns out that the White House loves bathrobes—so much that they have their own signature line! This was made known when Vice President Joe Biden presented popular daytime talk show host, Ellen DeGeneres, with the surprise of an embroidered bathrobe. The beautiful robe featured the White House crest on it, making Ellen just one of the family!
Biden declared that the reason for offering this gift was so that Ellen could really relax and feel comfortable while watching next year's Presidential State of the Union Address.
Does that mean that Vice President Joe Biden finds bathrobes to be incredibly soothing and comfortable—even more so than regular clothing or pajamas? We think so. And we are with you all the way, Vice President!
If it's good enough for the Vice President, then it's good enough for us! No matter your political party association, we can all agree on one thing: bathrobes were made to enhance each person's comfort and relaxation. Want to enjoy the presidential treatment? You can, too, with a plush, luxury bathrobe like the Boca Terry Classic Shawl Collar. Don't forget to embroider yours with something special, too!
Share this item with friends