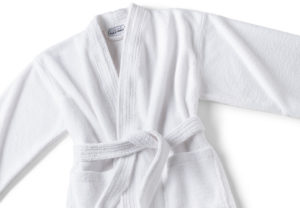 With the ever-rising competition among hospitals these days, advertising the best amenities is one of the tools being used to draw potential patients. With patients coming across similar promises made by various hospitals on a daily basis, it becomes more challenging to decipher which one really is the best.
Along with promising to offer the latest technology and highly experienced medical practitioners, hospitals are paying closer attention to attending to the overall comfort of a patient during their stay. Some patients might look for shorter wait times, while others might focus on proof of awards and accolades, but all patients yearn for entering a hospital that can make them feel at home.
The Comforting Touch of Bathrobes
By doing something as simple as offering bathrobes, a hospital can change a patient's perspective upon entering their room. Bathrobes have a certain aura of comfort that largely matches the element of practicality for both patients and the medical facility.
Although hospital gowns are largely the norm among most establishments, gone are the days when you'd walk into a hospital and receive a disposable paper gown (well, at least in most institutions). If you recall, these are the gowns that simply tie at the back or front, and pretty insecurely in fact, making it easy to go untied during the inconvenient times.
Here are some other benefits bathrobes provide in hospitals:
A smoother recovery. With bathrobes, patients can focus on the process of healing, thanks to the smooth embrace of a bathrobe.
A sanitary setting. Bathrobes also help with preventing the spread of bacteria by more efficiently offering coverage and an added covered layer between the patient and their hospital bed.
Environmentally friendly. Since bathrobes can simply be washed and don't need to be thrown away, they promote an eco-friendly cause. Generally, when disposable robes are used, each patient will need an average of two. Fabric bathrobes therefore prevent a considerable amount of waste.
Easy movement. With disposable robes, patients would have to feel the discomfort of trying to maintain decency when welcoming visitors, which would hamper their flexibility when moving around. A paper composition cannot compare to the coziness offered by a quality bathrobe.
A Hotel-Like Ambience
Today, hospitals are also looking to create an atmosphere similar to one you would find at a wellness spa or high-end resort. The focus is namely on the patient experience. Nowadays, the expectations of patients are growing when it comes to the hospital services they receive. That means entering a cold clinical environment won't cut it.
So what's the best way to cater to their needs? Creating an atmosphere with amenities you would typically find in a high caliber hotel and/or spa. These amenities of course include plush bathrobes, slippers, and towels. By having these available, patients have a better response to the care they're receiving.
This comforting experience actually trumps the attention paid to the actual clinical care provided; it's one significant way to show the patient how much the hospital actually cares about their well-being. That's why hospitals are even offering more luxe meals, as well as upscale toiletries and beautiful views. Attracting patients and investors alike is also done through offering other facilities like valet parking and more private, finely decorated spaces and waiting rooms.
An Ideal Selection for All Patients
Bathrobes can really suit patients from all walks of life and age groups. Whether the patient is admitted on an in-patient or outpatient basis, bathrobes can accommodate either circumstance.
It's guaranteed that if you place a more exposing robe that lacks comfort next to a smooth and lush bathrobe, the patient will favor the luxurious bathrobe, instead. Bathrobes actually give patients a feeling of calm and they have been proven to lower stress levels, which is paramount to the healing process.
Boca Terry is proud to be part of an industry that allows for enhancing a patient's quality of life. We've been in the bathrobe manufacturing industry for over two decades and have also been manufacturing quality spa accessories to cater to the needs of a range of audiences.
Providing the Conveniences Patients Desire and Deserve
At Boca Terry, we don't take shortcuts in providing the best quality bathrobes on the market. Every bathrobe manufactured in our overseas factories undergoes our quality control processes before being deemed ready for delivery.
Seeing as how we only use the highest quality fabrics and most efficient manufacturing methods, each bathrobe is extra durable. Due to the high sanitation standards set by the medical industry, bathrobes must constantly be laundered, which is one of the reasons a quality composition is necessary.
Even after undergoing several washes, our bathrobes are resistant to shrinking and stretching. Unlike other bathrobes of lower quality, the materials of our bathrobe selection won't stiffen after laundering either, nor will the color fade or discolor over time.
Boca Terry has been supplying bathrobes to hospitals and medical centers along with various industries spanning from fitness centers to hotel resorts and cruise lines. Since we've developed long-standing relationships with the industry's most renowned merchants and suppliers, we're able to offer our bathrobes at competitive prices.
Offering the Ultimate Patient Care
Boca Terry is always ready to stand alongside hospitals that position patient care as their top priority. Our luxury wholesale bathrobes, towels, and spa accessories can truly make your patients' experience a pleasurable one.
All of our products can also be customized for a more luxurious touch. Your hospital name will receive more exposure with a personalized monogram, emblem or logo for a unique appeal. To learn more about our large quality assortment, contact Boca Terry today to discuss the best options for your institution. We look forward to hearing from you.
Share this item with friends