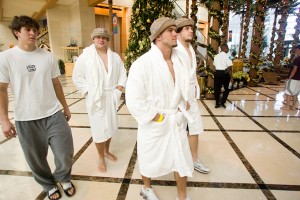 In it's 28th year as one of the most celebrated music events in the world, the Winter Music Conference runs from March 15th to the 24th in Miami,Florida. As the largest gathering of its kind, the event attracts thousands of artists and industry pros from over 70 countries and features over 500 events, parties, seminars, and workshops on new music, marketing ideas, and much more.
An Amazing Opportunity to Promote Your Brand
With people flooding Miami for this important music business event, hotels have an amazing opportunity to promote their brand through one of the best possible giveaways, the bathrobe.
The Perfect Arena for Giveaways
The abundance of pool and beach parties that revolve around the WMC make it the perfect arena for providing guests with a little piece of luxury that represents your brand. There's a lot of money at this event, and by giving away a beautiful, plush Boca Terry bathrobe, you are providing the perfect reminder of your location for future bookings on Miami Beach.
The Impact of a Sumptuous Bathrobe
A sumptuous bathrobe makes a powerful impact, especially our impressive designs, created with exquisite, durable, and perfectly crafted materials. With your logo along with the WMA design custom embroidered on one of our unique models, your giveaway will be hard to beat.
Covering Up in a Trendy Robe
The WMC attracts a young and moneyed audience, with the pool becoming the new office for networking and making deals. With so many parties revolving around your hotel's outdoor bar, providing your VIP guests with custom bathrobes is an ideal way for them to cover up in style.
Adding to the Mystique
Whether its our Satin Stripe, our plush hooded terrycloth, our 100% organic cotton, our Microtec, or our Pink Satin mini bathrobe for women, covering up to then unveil a well-toned body is always a theme in Miami. Why not give your most important guests a sexy robe that adds to their mystique before the bathing suit is revealed?
Attracting Attention
With so many places to see and be seen, a Boca Terry robe is one of the best ways to attract attention poolside, as it represents luxury to the max. By offering any one of our trendy styles, your hotel will remain a staple long after the event is over, reminding the wearer of a great time at a great event in a great hotel.
Stay Ahead of the Competition
There's a lot of competition out there at this event, with hotels vying for the big spenders to come and stay at their establishments. Why not add an extra touch to your promotion by offering a Boca Terry robe, which will last a lot longer than the event itself and remain the perfect reminder of your hotel's generosity and attention to detail.
Contact Us
For information on ordering your custom Boca Terry robe, contact us today.
Share this item with friends