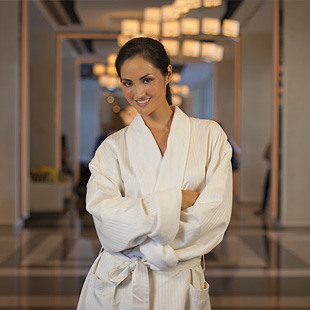 The cold winter months are when we want to hibernate. They ask us to enter our bear cave where we can regenerate, staying toasty in our homes, curling up on chilly nights to read a book or watch a good movie.
Feeling Contained and Secure
There is nothing better than shedding the layers of clothing we've put on for the day, taking a hot bath or shower, and then wrapping our bodies with a luxury winter bathrobe. With a wrap around robe, we feel contained, secure in our private world inside and out of the cold.
The Psychology Behind Feeling Protected and Embraced
Our designers at Boca Terry understand what it takes to be cozy and warm. We know that a bathrobe needs to be more than a piece of absorbent cloth that ties around the waist. In fact, it seems that our reputation in the industry has been based on our ability to fathom the psychology behind feeling protected and embraced, and it is this awareness that goes into every one of our bathrobe designs.
A Metaphor for the Ultimate in Comfort
We've been in the business for a long time. We've done our fieldwork, asking people what they want from a bathrobe. We know from our own experiences that a bathrobe is a profound metaphor for the ultimate in comfort.
Providing a Sense of Security
We put on a bathrobe after we've stepped out of a shower or bath, which is when we are the most vulnerable. The very act of wrapping the robe around our naked bodies is one of protection, of enclosing ourselves in something that provides us with a sense of security.
Understanding the Sensation of Ease
So, in a way, we can say that a bathrobe is a kind of security blanket. However in the case of Boca Terry luxury bathrobes, they are some of the most stylish, upscale, luxurious versions, created for adults who understand that the combination of comfort and elegance is the ultimate in feeling at ease.
Separating One World from Another
When you place a Boca Terry luxury winter bathrobe around your skin, you immediately sink into a plush atmosphere that soothes every pore as the thick, soft, exquisitely made fabric caresses you. If you've come home from a long day's work, there is nothing like one of our bathrobes to separate one world from another.
The Terry Fleece Line
Perhaps you've chosen a bathrobe from our Terry Fleece line, in elegant Kimono style, or with a Shawl Collar that can be worn up around your ears. With their deep pockets and double belt loops for fitting your waist height, you know what we're talking about when we say that our robes are designed for warmth and relaxation.
Perfect for Women and Men of all Sizes
With head to toe protection, both of these designs are made with beautiful multi-needle stitching around the front, cuffs, and pockets. Made of 100% polyester fabric and coming in either white or ecru, the Kimono comes in a 48-inch length, and the Shawl Collar in a 52-inch length. Both styles are perfect for both women and men, and can be ordered in plus sizes to accommodate a fuller form.
The Terry Cloth Bathrobe
You might have instead chosen our hooded Terry Cloth bathrobe, made of the finest 100% combed cotton terry or velour. Measuring 48 inches in length, this robe is also created with multi-needle stitching around the front, cuffs, and collar and includes sumptuous pockets and double belt loops. Woven at our Boca Terry factories, we use a unique and innovative technique to ensure that you are getting the best of what these fabrics have to offer.
The Value of Terry
When it comes to terry cloth, the value of the material is determined by the length of the loops and the weight of the fabric. With the length of the cotton loops determining how much water can be absorbed in order to effectively keep you dry, we make sure that we use the maximum length possible. Because the fabric is measured by the ounce, ours are made of the perfect weight for ultimate absorbency and durability.
Head to Toe Comfort
All of Boca Terry's luxury winter wrap around robes are created for head to toe comfort. Soft against the skin, they are also versatile enough for use in summer around the pool, or for after spa treatments where they help the skin absorb softening emollients.
Sensual, Durable, Lasting
One of the many ways our products set themselves apart from our competition is that they are made as if they were one-of-a-kind items and then thoroughly lab tested for quality. Even though they are as sensual as can be, they are also surprisingly durable and last for years and years throughout numerable machine washings without any visible wear.
Contact Us
For more information on keeping warm with one of our luxury winter bathrobes, feel free to contact us today by filling out our online form or by calling us at 877.421.6001.
Share this item with friends