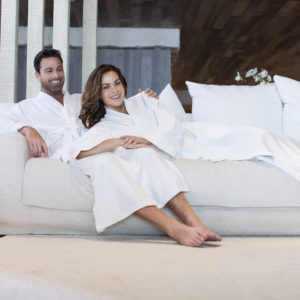 Because Labor Day and relaxation are the perfect pair
If there's one thing we love about Labor Day, it's the relaxed, stress-free attitude it brings every year. And with the holiday well on its way, now is a better time than ever to stock up on the best bathrobes for the end of summer. Not sure what style suits you and your clients best? We've narrowed it down a bit for you. Here are a few of our suggestions:
Basic Kimono
The Basic Kimono bathrobe is everything you want in a bathrobe and more. It's cozy, the perfect fit for guys and girls, and it's made from terry cloth, making it the perfect selection for late summer and early fall. The terry cloth is 100% combed cotton (meaning it's super soft and ultra-absorbent).
The kimono is 48″ in length with 17″ sleeve length, so it typically hits anywhere from mid-calf to ankle, depending on the height of the wearer.
Kimono Waffle
Similar to the above choice, the Kimono Waffle bathrobe is a beautiful addition to any lazy Labor Day lounging plans. Its lightweight body is both breathable and fashionable.
This bathrobe comes in your choice of either 100% cotton or 67% cotton and 33% poly, meaning it's an ultra-absorbent selection to close out the swimming season this year. At 48″ long, it typically hits about mid-calf.
This robe is an excellent choice for anyone trying to make a subtle statement, as the color piping adds a beautiful pop — but never too much!
Checkered bathrobe
This bathrobe is a glamorous option. Its plush and beautiful features frame any shape perfectly, making it an extremely fashionable and cozy option for relaxing all weekend long. And let's be honest: Labor Day Weekend isn't just about relaxation — it's about having fun in the sea and the sun, too! Thanks to the Checkered Bathrobe being made from 100% combed cotton, it's not just soft — it's absorbent, too. Hello, waves!
The shawl collar is 52″ in length with roll-up cuffs, while the kimono is 48″ length with a 17″ sleeve length, so it typically hits anywhere from mid-calf to ankle, depending on the height of the wearer.
Knit waffle bathrobe
Depending where you live in the world, Labor Day Weekend might bring about some chillier weather. And that's where the Knit Waffle bathrobe comes in. Made from 45% cotton, 45% modal, and 10% polyester, this robe is the ultimate pillar of comfort. Modal fibers are characterized by their soft, rich and unique attributes — and the quilt-like texture of this bathrobe will snuggle your skin, keeping the chilly wind away from you.
Ready to rock Labor Day?
Check out our retail spa accessory and bathrobe selections. Thinking about going bigger? We also sell in bulk. Contact us today with any questions about wholesale pricing or to place an order. You and your guests will be rocking Labor Day in style in no time.
Share this item with friends