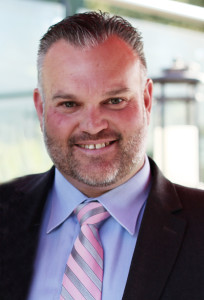 Lance Thompson is a family man that thrives on bringing joy and happiness to others—in fact, he loves it so much that he has taken on two full time roles in the industry!
His commitment to hard work, innovative thinking, and his knack for staying current in today's evolving industry has led him to roles as the General Manager of The Sebastian Vail and the Director of Resort Operations at Timbers Resorts. That's right—a man with two careers. We decided it was time to take a moment to learn a bit more about Lance:
What drew you to the hospitality industry?
I was born and raised in Carmel, California—it's a resort town. I loved the idea of how people felt on vacation and wanted to be part of that. From an early age, I was able to work as a caddy and loved the thought of making hospitality a career. I went to hotel school and studied hospitality at the University of Nevada, Las Vegas. The rest is history.
 It looks like you are juggling two full-time positions in the industry; how do you find the time and what motivates you each day to continue?
I find the time by surrounding myself with talented people. Finding people who are likeminded that genuinely care about the guest experience—using those folks as your pillars. It allows me to know I can focus attention on one property. The people who are operating the establishment are the people who carry that same passion that our CEO does and that I do. I love coaching everyone as they grow into their role. That's something unique about our company: we build up our workers and they have the opportunity to move up. Front housekeepers can grow to become resort managers.
We noticed Timbers Resorts' fun Twitter post revealing "emerging hotel bathroom trends." What are some other interesting trends you have seen this year, or that you predict will emerge in the industry?
We are seeing a trend for health, which will continue to be very important for our guests—from healthy options at the restaurant to hiking, biking, skiing and outdoor adventures. We want to make sure our resorts offer activities for guests to better themselves. I've also noticed that more people are spending vacation time with their families—we see a lot of grandparents coming with their kids. Skiing is something people can do at all ages, so this is important.
What kind of events do Timbers Resorts and The Sebastian Vail host to stay involved in the community?
Typically, our events are open to the community—whether a wine tasting or our Burgers and Bluegrass event. Everything that we do is with the intention to be involved with the community. Each Friday at The Sebastian, we do a fashion show with local vendors and stores. We also have Saturday Sundaes where we offer free ice cream for the kids. We also try to get involved in anything that benefits local children; we partner with Habitat for Humanity and other programs in the area.
What are your goals for The Sebastian and Timbers Resorts?
Our goals are straightforward: to provide a venue where people can create memories with their families and to focus on what's important—spending time with those they love.
How did you discover Boca Terry products and why does Boca Terry stand out to you?
I discovered them working in Cabo San Lucas, Mexico at our resort, Esperanza. The combination of Boca Terry being a professional company, yet family owned was very important to me. We are a family-oriented company, so working with others that hold that value is special to me. Also, the personalized services stood out to me. We took over a Hawaii property in a week's notice and they were able to deliver products in time for the opening.
Please describe your experience working with the Boca Terry staff.
Every interaction has been professional, polite, and you feel like you've been talking to somebody that works on your team.
Share this item with friends