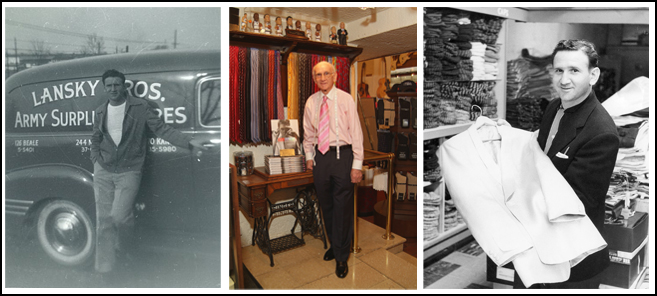 With more than 50 years of bringing the latest fashions to Memphis, Lansky's has been a tradition since 1946. The clothier of choice for superstars like Elvis Presley, Johnny Cash Roy Orbison, Isaac Hayes, Jerry Lee Lewis, and so many more, the store still runs strong with a catalogue that speaks of time past while still remaining fresh. In the words of the company's owner Hal Lansky, "you have to change. Styles change. We move with the times and evolve. If we hadn't, we wouldn't have been in the business after 67 years."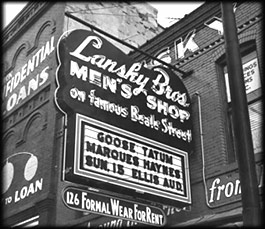 Sam Lansky bought the shop at 126 Beale Street for his two sons, Bernard and Guy. At the time, this was where the music scene was on the rise and where the musicians and denizens of the area who wanted to look dapper and cool came to find their threads. From Count Basie, Lionel Hampton, and Duke Ellington to B.B. King, Lansky's was the place to shop when you wanted to make an impression.
In 1952, a young guy used to walk past the window all the time, gazing longingly inside. One day Bernard invited him into the shop and the meeting with 17-year-old Elvis, who worked nearby at the Lowe's Theatre, was to become the stuff of legend. Elvis told Bernard right then and there he'd buy him out when he became famous, to which Bernard replied, "don't buy me out, just buy from me!" And that's just what he did. "Through years Elvis has become our great supporter, goodwill investor and a friend who'd always have your back no matter what," Lansky recalls.
As Elvis began his rise to superstardom, Lansky Brothers was with him every step of the way. They indeed sold him most of his outfits, putting him in his first suit for the Ed Sullivan Show, as well as his last. In 2001 Lansky's inaugurated a new line, dubbed "Clothier to the King," featuring reproductions of clothing that Elvis wore, along with 1950's inspired styles.
These days if you're browsing the store, you're likely to see musicians like Robert Plant, Stephen Tyler, Dr. John, The Jonas Brothers, and many more doing just the same. And if you happen to be in the robe department, you'll see our Peabody Hotel Robes hanging proudly, with their double belt loops and sexy roll up collars and cuffs.

Lansky feels confident endorsing Boca Terry, saying, "we love selling their products. They provide beautiful embroideries, and you get everything you need at a moment's notice." At Boca Terry, we feel that being a part of America's most famous clothing store for the stars is just another way we can boast about making our own small claim to fame!
To learn more about the Lansky Brothers visit LanskyBros.com
Share this item with friends