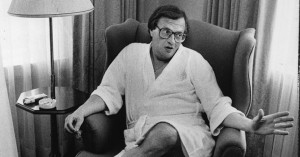 Looking back to a time where wearing a bathrobe to an interview was unheard of, we decided to take a trip down memory lane to recount the infamous interview with Larry King in a bathrobe. Originally featured in the San Francisco Chronicle, Ben Fong-Torres met with King on July 26, 1986 while he was in town for multiple speaking engagements and was shocked by the fact that King answered the door in a hotel bathrobe. (We would first just like to say that King is a man of taste and applaud him for pushing the envelope in a hotel's most coveted accouterment.)
To get a better idea of what went down at this infamous interview, let's recreate the scene for just a moment. SFGate journalist Peter Hartlaub's brings us back by referring to an excerpt found in Fong-Torres' original article.  Reflecting upon this momentous rendezvous, Fong-Torres mentioned that if he didn't know any better, King always sounded like he was situated in a bathrobe on air. Speaking in a manner that made him the quintessential talk-show guest, King used the interview to reminisce upon the fact that he enjoys perching himself on a stationery bike to watch the news, is a passive sports fan, and an intense lover.
Focusing on the photographic portion of the interview, Hartlaub looked to Pulitzer Prize winner Deanne Fitzmaurice to recall her experience photographing King, which happened to be one of her very first assignments with the Chronicle. Nonetheless, King wasn't fazed by the fact that he was being photographed in a robe. Both Fong-Torres and Fitzmaurice avoided being flashed by King, but noted how comfortable he was in a bathrobe at 2 o'clock in the afternoon. After all, one of the best things about interviewing a celebrity or people in the news is when they are comfortable in their own skin. To say the least, King knows how to keep it real!
Share this item with friends