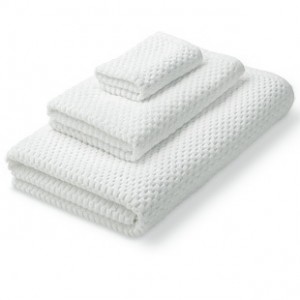 One of the most obvious necessities in our world is the need for towels. Washing our faces with a washcloth, drying our hands with a face towel, wicking water away with a bath towel, or drying off on a beach towel by the pool or ocean is something we do without thinking.
CALL US TODAY AND DON'T MISS OUT ON THIS LIMITED TIME DEAL FOR YOUR BUSINESS.  THE HOLIDAYS ARE APPROACHING, WE FEEL LIKE GIVING
A World Without Towels
We forget that our culture did not always have towels and that they were considered luxuries in the early days. The first vestiges of towels were actually hand woven out of a natural linen, first rough to the touch and then later more refined as they were used by the cultured few who fancied softer materials for cleaning and drying.
The Advent of Turkish Toweling
It wasn't until the 1890s that terry cloth was introduced as a fabric ideal for absorbing water. Known then, as often it is today, as Turkish toweling, it could be purchased by the yard where the buyer would cut it according to the size needed and then possibly hem the material at the ends.
The Birth of Weaving Factories
At that time you could also get terry cloth towels at the local dry goods store and then through the mail where the material would be woven, sewn, hemmed, and ready for immediate action. Then, by the end of the 19th Century, weaving factories began to mass produce the terry, creating jobs along with an industry that to this day is one of the most prolific.
Refining the Process to Perfection
We at Boca Terry are the perfect representatives of this industry, especially when it comes to the wholesale luxury bath towels that have helped us stand out from the crowd. Woven at our own factories where we have control over everything from yarn purchase to the final step of sending them out to our clients, we have refined the process to perfection.
Beautifully Crafted, Competitively Priced
With factories in China, India, Pakistan, Turkey, and Columbia, we have created the ideal system for production, providing direct access to our products, which eliminates the middle man. By sourcing materials from all over world and constantly testing their quality, we are able to provide some of the best hotels and spas worldwide with exquisitely crafted towels, as well as incredibly competitive prices.
Our Resort and Sunny Lane Collections
Our Resort Collection and the Sunny Lane Collection are examples of the exceptional luxury bath towels we create for five star hotels and spas throughout the United States, Europe, and the Far East. Woven in a manner that creates a soft, absorbent towel, we can also customize any order with your logo or emblem to add greater exclusivity.
Offering you fine bath towels is one of the ways we acknowledge your respect for items made with care. Our luxury products speak of Boca Terry's mission to produce only the best.
For more information on the low prices we offer on our wholesale luxury bath towels, please contact us through our online form, which can be found at http://50.97.39.122/~bocaterry/contact-us or by calling us at 877.421.6001.
Share this item with friends