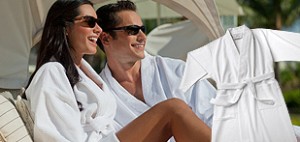 Luxury bathrobe and spa accessory company, Boca Terry Bathrobes announces new pricing for its luxury bathrobes and spa accessories as a result of increasing demand for cotton in the textile industry.
Deerfield Beach, Florida December 2010: International bathrobe manufacturer and distributor of luxury bathrobes and spa accessories, Boca Terry, has announced that its product prices will be increasing in 2011. This is a direct result of the recent increases in cotton prices and a growing demand within the textile industry.
Cotton sales have surpassed production again for the fifth straight year. This demand for cotton signals positive economic growth which is good for the U.S., but the inability to meet this demand is forcing a rise in the price of cotton.
On top of cotton prices going up, wage increases in China are bringing up the cost of labor. Combined, these two factors are forcing many textile and apparel manufacturers to re-evaluate their costs. Some companies will attempt to reduce the quality of their products to combat this rise in costs.
Boca Terry is proud of its quality products and stand firm in guaranteeing its customers a brand they know and trust. The company has announced that it will not compromise the quality of its products in order to cut costs. Director of operations Laura Lewis explained how Boca Terry differentiates itself in the marketplace, "We believe the strength of our products distinguishes us from our competitors, and we hope to continue this tradition in 2011."
Boca Terry President, Edward Cohen, commented, "We want to be upfront about our price increases. We thank all of our loyal customers for all their business in 2010. It"s been an extremely difficult year to hold prices. Between labor, cost of materials, and the weak dollar, we have no choice but to raise prices in 2011. We want to thank all of our customers for supporting us, and we wish you a prosperous 2011."
Boca Terry vows to continue providing luxurious robes, slippers, towels and spa accessories at competitive prices. To receive a new list of pricing or a product catalog visit www.BocaTerry.com or contact the company at info@bocaterry.com.
What about hospital gowns. Can you believe they still use disposable paper gowns that tie at the back and come undone at the most inopportune times. In this day in age? Not for long. Hospitals are gearing up to finally make the shift to washable, more comfortable gowns and robes. What-To-Expect books have been pitching this idea to women for years. Bring your own robe to make your post op stay more comfortable.
Quality stay and comfort seem like logical next steps. Pretty soon a billboard advertisement for a hospital will look more like an advertisement for a four star resort with lavish luxury robes, turn down service and continental breakfast.
Besides the comfort benefits of switching to new robes, one could make a case for the global benefit. No more waste. Some nurses offer patients two robes, one goes on straight ways and the other in reverse to prevent any accidental malfunctions. That"s two disposable robes per patient.
Practice Greenhealth estimates hospitals generate 28 pounds of medical waste per staff bed. Legacy estimates producing between 1.5 and 1.6 million pounds of medical waste between mid-2008 to mid-2009. Imagine a hospital being able to boast how much waste their preventing.
The question is do we care that advertising is affecting the quality of our hospital care? Is it wrong that the only reason patient considerations and outside the box thinking are employed is when two hospitals are competing with each other. At the same time, a nice luxury robe would be nice and might make this writer think twice about which hospital to head to in an emergency.
Share this item with friends