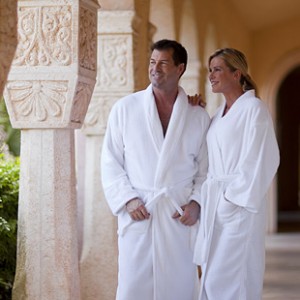 No matter where the hotel, motel, or resort you operate is located, luxury bathrobes would make the perfect addition to any room. You can easily add an extra touch of class to your establishment by ensuring that a robe made of the finest materials is folded neatly in every bathroom, ready to swaddle your guests in comfort. This extra element shows your guests how much you truly appreciate them and instantly sets you apart from competitors. It can also help you win repeat customers who were impressed by the way you catered to their every need and they'll consider the robe that final detail that wins them over.
Why Provide a Luxury Bathrobe
You would be surprised how many of your guests would love to enter their room and find a luxury robe in the room. This item is both practical and luxurious because it allows them to cover up while they relax, making them more comfortable, while wrapping themselves in extremely luxurious materials that will make them want to stay just a little bit longer. It may be a small gesture, but adding a bathrobe to your already excellent service is an investment in your customer and an investment in your future.
Finding Luxury Bathrobes On Sale
Although a bathrobe is a small expense, adding one to each room can get rather costly. However, there is a way that any establishment can afford a bathrobe in every room through a luxury bathrobe provider with wholesale prices to easily buy them in bulk and provide one for every guest.
The best place to find luxury bathrobes with the widest selection of materials and customization options with wholesale prices is Boca Terry. Boca Terry offers a large number of luxury bathrobes in allowing you to choose from the most luxurious materials, like microfiber and terry cloth. You can also choose from styles that suit every guest and establishment, from the kimono style to the hooded robes that are perfect for salons and spas.
Choosing a Luxury Bathrobe
Though Boca Terry has so many choices for luxury bathrobes, choosing the right one for your establishment is made easier with our representatives. Our representatives are always on hand to discuss your plans and styles to make sure your purchase is a solid investment. We hold that luxury bathrobes should be practical and luxurious, not simply luxurious but cumbersome. Our hooded bathrobes are perfect in salons and spas because there may be instances in which individuals want to protect their heads or hair from the sun, body spray, or other elements. The kimono works better for lounging in an area where the guest simply needs to be covered up.
Luxury bathrobes offer an excellent opportunity for hotels, motels, spas, resorts, and other entities that want to improve their customer service and add a classy and practical touch to the amenities they offer. When you buy from Boca Terry, establishment owners can save money and improve their business with luxury bathrobes available at whole sale prices, making their choice in luxury bathrobes the easiest decision they could make.
For any questions or further information requests, please do not hesitate to contact us.
Share this item with friends