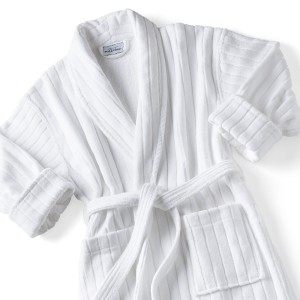 The pivotal sign of ultimate luxury: a gloriously plush, warm bathrobe. Go ahead, embrace the soft, white terry loops as they trace your tense shoulders. Unwind with this month's bestselling novel beside the bubbling hot tub, wearing a lavish robe across your waist. Soak in every soothing moment of your getaway in our unforgettable robes. Made with care and dexterity, luxury hotel robes made by Boca Terry can send hotel guests into an unmatchable state of relaxation and peace.
Americans Love Luxury
From luxury cars, spas and hotels to top-notch phones, computers, clothing, and coffee, it is evident that Americans desire splendor in everyday experiences. This craving is found among every class of Americans, so much that CNN's Dave Schechter wrote a controversial blog post questioning whether those who own luxury items can be considered poor. Americans' spending on showy items is on the rise. According to James B. Twitchell, "Since the 1980s, the bulk consumers of luxury have not been the wealthy but the middle class, your next-door neighbors and their kids. Luxury spending in the United States has been growing more than four times as fast as overall spending" (Twitchell). Our obsession with extravagant items is becoming more and more popular with each passing year.
Tempting Terrycloth
With such a passion for all things lavish, it is no wonder that there is an entire USA Today article (and ongoing debate) discussing whether or not hotel guests should keep the robes found in their rooms! This has become such an issue that hotels that are trying to decrease this action now post signs in their rooms, informing guests they will be charged for packing the plush robe in their bags.
Big Brands Love Us!
This, of course, does not surprise us. Many American hotels, resorts, and spas use our original Boca Terry robes in their rooms. You will find our lush robes in some of the biggest hotels in the country. Our clients consist of big names such as Sandals Resorts. Have you heard of a "little" brand called the Ritz-Carlton? Yes, we have, too. The Ritz Carlton is one of our clients who felt compelled to provide their guests with soothing, sophisticated, top of the line robes from us, and they are not alone! Guests arriving at one of the world's largest hotel lines, Hilton, will also be pleased to find a cozy, fluffy Boca Terry robe during their stay! Our secret to attracting our outstanding clients is all in the product.
What Makes Us Different
It is evident why big name hotels and resorts feel compelled to keep our robes in stock. The completely original designs can only be found from us! Each and every one of the robes we produce is made with custom fabrics woven at our factories, specifically for our brand. We source these fabrics from high quality thread found around the globe. The time, effort, care, and design have enabled Boca Terry to become an unmistakable, highly sought after brand.
Close Connections
Thanks to our direct relationships with our factories, we are able to offer our clients exceptionally made products at lower prices. We are able to ensure that our products are created with the highest attention to detail. By eliminating the middle man, we eliminate cost.
Don't Wait Around
With several packing locations, we guarantee fast shipping to our clients! The distribution of Boca Terry bathrobes and spa products takes place in Florida, Los Angeles and Hong Kong. Our distribution centers are capable of shipping anywhere in the world on time and with care.
Create Character
Clients have the ability to embroider their logo, emblem, company name, and more onto the robes they choose. Now, guests will remember your business for years to come! If you want something even more unique, clients have the option to create custom designs and prints as well. Each original embroidery and custom design originates from our corporate headquarters in South Florida. Once the initial prototypes are approved by our client, they are sent overseas for product sampling. We want to be sure that the client knows exactly what they are getting, and that they are getting exactly what they are looking for! Guests will love knowing they have the benefit of wearing a completely original product. After all, what is more luxurious than limited edition items? Let your brand's personality shine through with completely customized robes!
Organic Options
We are no stranger to the world of environmentally friendly products, as we offer organic cotton robes. Even if you are not recognized as an eco-friendly company, your guests with allergies and skin sensitivity will rejoice upon discovery of your hotel's robes made with organic cotton, free of pesticides, fertilizers, and GMOs. The use of this cotton has a positive impact on the planet, as well!
We Have Your Back (And Shoulders)
We understand that American hotels stream everywhere across the country, and there are exceptionally different climates in our country. Because of this, we manufacture robes suited for every surrounding. We offer lighter, waffle patterns for warm beach destinations, and plush, terrycloth for mountainside getaways! No matter where your hotel is located, we have the robes that will bring your guests' experience from great to outstanding!
America, the Beautiful
The Caribbean has long been acclaimed for its beautiful surroundings and laid-back island lifestyle. Overall, guests expect grandeur to be abundant on a Caribbean vacation. Do you own or work at a resort in the U.S. Virgin Islands? Read our article about the best spa robes for resorts and hotels in the Caribbean!
We Feel the Love
Check out our article describing why popular hotels love us! Let your brand count on our brand. If you are looking to order our outstanding products, or if you have questions about pricing, contact us!
Works Cited
Twitchell, James B. "A Mild Defense of Luxury." BostonFed. Regional Review, Winter 2001. Web. 16 Apr. 2014.
Share this item with friends